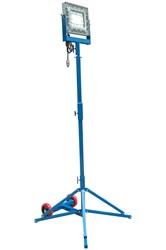 This elevated work area LED light provides exceptionally bright area lighting for operators in confined spaces or open areas.
Kemp, TX (PRWEB) October 01, 2013
The WAL-QP-1X150RT-100 quadpod mounted LED work area light from Larson Electronics is designed to provide operators with a highly stable extendible tower lighting system capable of illuminating large work spaces effectively. This high power light tower features a powerful 150 watt LED light head producing 12,000 lumens of light output in a wide flood pattern for effective coverage of work spaces up to 18,000 square feet in size. This LED lamp is constructed of aluminum for light weight and durability, and has a special finned design for efficient heat control to aid in LED longevity. This lamp has a 50,000 hour operational life rating, and produces output comparable to that of a 400 watt metal halide lamp while using a fraction the amount of energy. The tower assembly is a take down design that can be assembled and disassembled without tools for easy transport and setup. The lamp head is fitted to an adjustable top bracket which allows easy positioning of the lamp. The main mast can be extended from 4 feet to 12 feet for maximum coverage of larger work spaces. The base consists of a four leg quadpod that provides superior stability compared to standard three leg tripods, and the legs can be folded during takedown for more compact stowage. The base also includes a pair of solid rubber wheels that allow operators to simply tilt the entire tower and roll it from one area to another once it has been assemble for easier maneuvering around the work area. Larson Electronics rounds out this quadpod light tower with 100 feet of abrasion resistant SOOW cord ending in a standard plug to provide ample length for moving about the work area. This LED light tower is ideal for operators in industrial work areas who need portable and powerful lighting that can be easily deployed yet is capable of withstanding the demanding and abusive conditions of an industrial environment.
"The WAL-QP-1X150RT-100 is an alternative to 400 watt metal halide light towers," said Rob Bresnahan with LarsonElectronics.com. "This elevated work area LED light provides exceptionally bright area lighting for operators in confined spaces or open areas. The elevated positioning of the lights enables multiple operators to work without creating shadows."
Larson Electronics carries an extensive line of LED lights, LED work lights, LED light bars, intrinsically safe LED lights, outdoor LED lights, and explosion proof LED lights. You can view Larson Electronics' full line of industrial grade lighting by visiting their website at LarsonElectronics.com. Larson Electronics can be reached directly by calling 1-800-369-6671 or 1-214-616-6180 for international inquiries.