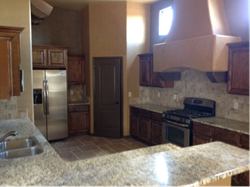 Las Cruces, NM (PRWEB) November 26, 2013
With 279 days of sunshine in the southwest, TNM Building and Development is capitalizing on this natural resource to make homes more energy efficient and in turn, save their customers money on their energy bills. By employing cutting-edge skylights and Solatube technology with TNM's commitment to quality craftsmanship and attention to detail, homeowners who are embracing this technology are saving thousands of dollars in energy costs.
While skylights allow the sun to naturally light and heat rooms, Solatube goes a step further and allows for lighting in hard-to reach areas of the home.
Michael Fraembs of TNM Building and Development explains how these devices work. "They are installed like skylights, but then a tube refracts and captures the light, allowing any room to be lit, even if it does not get direct sunlight."
Installing a Solatube requires no structural changes, but you will want to make sure that you have a qualified contractor, as a hole must be cut in the roof. Once the hole is cut, the Solatube is installed so that the other end is in another pre-cut hole in the ceiling. A light fixture is affixed to this end and screwed on. The sunlight is refracted through the tube creating an in-home skylight.
As for nighttime, Solatube also offers a Smart LED system that transitions from daylight to LED light as the sun goes down.
According to the Las Cruces contractor, in addition to lowering one's electric bill, installing these types of lights may qualify for rebates from local electric companies. Installing Solatubes may also significantly lower a house's HERS (Home Energy Rating System) rating, which is the industry standard by which a home's energy efficiency is measured. Lower HERS ratings are better because they reduce a house's carbon footprint while saving homeowners money. Solatube is also Energy Star rated and therefore homeowners who install it may qualify for some tax rebates.