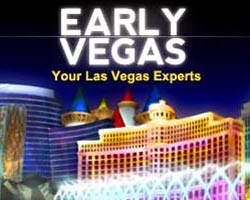 2013 is far from over and Sin City plans to unveil several Las Vegas attractions that are fun for all ages.
Las Vegas, Nevada (PRWEB) August 13, 2013
There are plenty of new things to do in Las Vegas in 2013. New Las Vegas nightclubs such as Hakkasan at MGM Grand and new shows such as ONE by Michael Jackson proved to be a great success. Also, many Las Vegas hotels on the Strip are undergoing serious renovations and expansions this year. However, 2013 is far from over and Sin City plans to unveil several Las Vegas attractions that are fun for all ages.
The Linq
The Linq, located between The Quad and Flamingo hotel, is currently under construction and is expected to open in stages starting in December of 2013. The Linq is set to be an outdoor retail, dining and entertainment district which will run perpendicular to the Las Vegas Strip in the style of a vintage cityscape. Undoubtedly, the Linq's most defining feature is the 550 ft. High Roller, which will be the world's tallest observation wheel once completed. Each air conditioned cabin of the High Roller Las Vegas will hold 40 people and revolutions will take 30 minutes. One of the most anticipated venues at The Linq will be Brooklyn Bowl, a large scale bowling alley and concert venue modeled after its wildly successful New York counterpart. Restaurants at the Linq Las Vegas will include Yard House, Tilted Kilt, Sprinkles Cupcakes and the return of O'sheas.
Container Park
While The Linq Las Vegas embodies the flash and pizazz of Sin City, Container Park in Downtown Las Vegas will be a completely different shopping and entertainment venue. Set to open in Fall of 2013, Downtown Container Park will host cafes, boutiques, bars, galleries, an outdoor theater and a children's play area. A large catalyst dome will be the most visible structure in the new center. The businesses will operate out of repurposed shipping containers and Xtreme Cubes to promote sustainability, flexible urbanism and small businesses entrepreneurship. There's also a 40-foot-long praying mantis that shoots flames, so it appears Container Park is prepared to stand out in Las Vegas.
Gameworks
After 15 years, the Las Vegas Gameworks location shut down in March 2013 to the disappointment of many. But now Gameworks will return to the Las Vegas Strip in November of 2013 with a new location in Town Square Shopping district. The revamped 37,000 square ft. underground arcade will feature bowling, laser tag and a center for online console and PC gaming. Gameworks will also feature sports viewing area and dining options.
Slotzilla
The slot machine themed, two tiered zipline is now set to open in Downtown Las Vegas in the Fall of 2013. Replacing Flightlinez, this permanent thrill ride will catapult patrons through the Fremont Street Experience at 35 miles per hour. The Slotzilla launching pad is also being billed as the largest slot machine in the world. Soar superhero style directly below the Viva Vision canopy screen and far above the gawking crowd below.
This article was written by Lauren Yap, Editor of EarlyVegas.com
About EarlyVegas.com:
EarlyVegas.com is an authority on how to save money and get the best value when planning travel to Las Vegas. EarlyVegas.com searches the web for the best packages, specials, promotions, deals, and promo code offers that help travelers save and get the most value when booking hotel rooms, tours, and shows in Las Vegas.