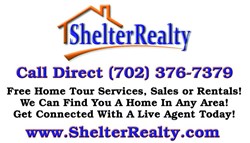 The Las Vegas market has seen a dramatic rise in prices after the implementation of an anti-robo signing law which choked off the supply of foreclosures and short sales coming to market
Las Vegas, NV (PRWEB) November 05, 2013
According to the FHFA.gov Home Price Index, the Las Vegas-Henderson-Paradise, NV Metropolitan Statistical Area (MSA) saw home prices increase in value by 17.59% for the 2nd Quarter of 2013. FHFA makes this information available at http://www.fhfa.gov.
Just two regions came in slightly higher on the list defined by the Office of Management and Budget (OMB). This leaves the top three regions in the United States with the greatest increase in 1 year home price appreciation ranked as:

Stockton-Lodi, CA at 19.40%
Phoenix-Mesa-Scottsdale, AZ at 18.47%
Las Vegas-Henderson-Paradise, NV 17.59%
Tony Sena, Broker and Owner of Shelter Realty said "The Las Vegas market has seen a dramatic rise in prices after the implementation of an anti-robo signing law (NV AB284) which choked off the supply of foreclosures and short sales coming to market. This fact, combined with a large influx of cash investor purchasing, reduced the inventory and prices rose in response".
The HPI is a broad measure of the movement of single-family house prices. The HPI is a weighted, repeat-sales index, meaning that it measures average price changes in repeat sales or refinancing on the same properties. This information is obtained by reviewing repeat mortgage transactions on single-family properties whose mortgages have been purchased or securitized by Fannie Mae or Freddie Mac.
About Shelter Realty, Inc.
Shelter Realty is a full service Las Vegas real estate and property management firm with more than a decade of experience. Their services include rental property management, short sale assistance, real estate sales representing buyers and sellers, and rental relocation assistance.
For more information please visit http://www.shelterrealty.com or call 702-376-7379.