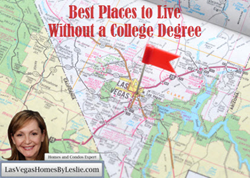 Southern Nevada has always been a place where people from any background could come and find a sustainable life. I'm not surprised three of our cities made the cut
Las Vegas, NV (PRWEB) May 22, 2015
Las Vegas Realtor Leslie Hoke reported Via her website and blog Las Vegas Homes By Leslie, that North Las Vegas, Henderson, and Las Vegas made the top ten cities to live in without a college degree. Ms. Hoke said "the data compiled by movoto.com used three criteria, including number of high school grads employed, number of high school grads with health insurance (pre-affordable care act), and the median annual earnings of high school graduates to create its list".
"Southern Nevada has always been a place where people from any background could come and find a sustainable life. I'm not surprised three of our cities made the cut. When you look at the fact that the average home in this area only costs $205,000 and interest rates are very low, it becomes readily apparent that someone with no degree can still own their own home," said Top Realtor in Las Vegas Leslie Hoke.
"While a college degree is certainly helpful in terms of employment opportunities, it does not guarantee success. This list also shows that it isn't a death sentence to not have a college degree. The Las Vegas economy is unique, there are still a lot of jobs that pay a livable wage for non-degree people," Hoke went on to say.
Movoto.com also compiled data from the U.S. Census, Bureau of Labor Statistics, and Center for Disease Control to create its list.
For information about buying or selling a home in Las Vegas or more details about the "Best Places to Live Without a College Degree," visit: http://www.lasvegashomesbyleslie.com/blog/best-places-to-live-without-a-college-degree.html
About Leslie Hoke
Leslie Hoke is a Las Vegas realtor with over 11 years of experience buying and selling real estate in southern Nevada. After a successful tenure at the Disney Corporation, Leslie moved to Las Vegas to pursue her goal of a successful career in real estate.
Leslie has earned several industry awards and accolades including being named "Top Las Vegas Realtor" by RE/MAX three consecutive years (2011-2013). Ms. Hoke is a member of the Greater Las Vegas Association of Realtors and National Realtor Association with certifications in short selling, condominiums, and new construction. She is known for her excellent customer communication, savvy marketing strategies, and top-notch negotiation skills. As a long-time Las Vegas resident herself, Ms. Hoke provides a wealth of local market information to help her clients reach their real estate needs.
Contact Info:
Name: Leslie Hoke
Organization: Las Vegas Homes By Leslie
Address: 8010 W Sahara Ave #150 Las Vegas, NV 89117
Phone: (702) 321-1763