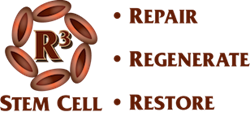 R3 has partnered with Dynamic Stem Cell therapy, with over 85% of patients experiencing dramatic improvements in pain and organ dysfunction!
Las Vegas, Nevada (PRWEB) February 20, 2017
R3 Stem Cell is now offering regenerative medicine treatment in Las Vegas and Henderson Nevada. Treatments have helped many patients avoid surgery and improve their lives dramatically. R3 has partnered with Dynamic Stem Cell Therapy to offer treatment for all types of conditions. Call (844) GET-STEM for more information and scheduling.
Regenerative medicine therapy with stem cells has become mainstream, and the pioneers at Dynamic Stem Cell Therapy are experts. The conditions treated include arthritis, tendonitis, sports injuries, ligament injuries along with a host of systemic issues such as COPD, CHF, Lupus, Rheumatoid Arthritis, Crohn's Disease, Diabetes and many more.
The Las Vegas stem cell center uses the patient's adipose tissue, and concentrates the stem cells in a same day treatment. The treatment is offered either as an injection or an infusion, depending on the need.
The therapy works great for helping patients avoid the need for potentially risky surgery, such as joint replacement or tendonitis surgery. Not only does the procedure include stem cells, but also growth factors along with other healing agents.
Along with the adipose stem cell therapy, the Las Vegas stem cell doctors utilize platelet rich plasma therapy, known as PRP therapy for short. The combination of the two augment the capability of repair.
In addition to bone and joint conditions along with organ issues, Dynamic offers cosmetic procedures as well. This includes the Vampire facelift along with hair restoration that works great from platelet rich plasma therapy.
Over 85% of patients benefit from the regenerative medicine procedures. Call (844) GET-STEM for more information and scheduling with the top stem cell therapy in Las Vegas.