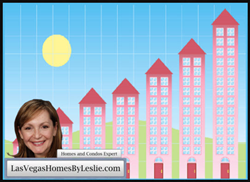 I'm looking forward to a very active summer. I'm definitely going to continue to watch statistical trends as we move into summer and fall
Las Vegas, NV (PRWEB) June 04, 2015
The newest data released by the Greater Las Vegas Association of Realtors revealed the Las Vegas housing market is running full steam ahead as the once tattered and torn market heads into summer. The latest statistics showed a sales increase of nearly 40% in just one month. That type of gain hasn't been seen since 2006 – almost an entire decade ago.
"I'm really encouraged by the sales numbers. The 37.9% increase in just 30 days is phenomenal. Only time will tell if it's a blip on the radar or a sign of tings to come. Either way, it's a definite signal that the housing market in southern Nevada is doing well," said Vegas Realtor Leslie Hoke.
"The median home priced remained unchanged at $205,000, so it's not like a major price drop fueled the increased sales numbers. I really believe there are multiple factors like sellers pricing homes right and buyers being in strong positions to purchase compared to recent years. And like I mentioned in a previous blog, I think people are in the buying mindset. They've mentally recovered from the recession," said Hoke.
"I'm looking forward to a very active summer. I'm definitely going to continue to watch statistical trends as we move into summer and fall," Hoke went on to say.
For more information about the latest Las Vegas real estate market trends and buying and selling home tips visit Leslie's blog at: http://www.lasvegashomesbyleslie.com/blog/las-vegas-housing-market-surges-forward-in-anticipation-for-summer.html
About Leslie Hoke
Leslie Hoke is a seasoned Las Vegas realtor with over 11 years of experience buying and selling real estate in southern Nevada. After a successful tenure at the Disney Corporation, Leslie moved to Las Vegas to pursue her goal of a successful career in real estate.
Leslie has earned several industry awards and accolades including being named "Top Las Vegas Realtor" by RE/MAX four consecutive years (2011-2014). Ms. Hoke is a member of the Greater Las Vegas Association of Realtors and National Realtor Association with certifications in short selling home Las Vegas, condominiums, and new construction. She is known for her excellent customer communication, savvy marketing strategies, and top-notch negotiation skills. As a long-time Las Vegas resident herself, Ms. Hoke provides a wealth of local market information to help her clients reach their real estate needs.
Contact
Name: Leslie Hoke
Organization: Las Vegas Homes By Leslie
Address: 8010 W Sahara Ave #150, Las Vegas, NV 89117
Phone: (702) 321-1763