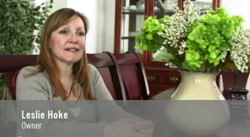 It's a breath of fresh air to be reading all of these positive stories about the Las Vegas housing market.
Las Vegas, NV (PRWEB) March 20, 2015
Las Vegas Homes By Leslie, the popular Las Vegas real estate website and blog is reporting the Las Vegas housing market has been ranked the 4th best real estate market for 2015 by Zillow. As reported on her blog, Leslie Hoke, long-time Realtor and Blogger shared the news and offered her thoughts on the ranking.
"It's really a reflection of what the data has been telling us. There is always a narrative behind any analytics if you take the time to flesh them out. What the data is telling us is that prices are stabilizing, are very affordable compared to other major markets, and interest rates are very low. All of those factors make for a great real estate market for returning and first-time buyers," said Hoke.
"It's a breath of fresh air to be reading all of these positive stories about the local housing market. Home owners and fellow realtors in Las Vegas have been through a lot with the market collapse. I've seen many realtors quit the business and many people lose their homes, but we're moving away from that now," Hoke said.
"A median priced home is $200,000 in Las Vegas. The median priced condo is $100,000. And with interest rates below 4%, wow. It just makes sense to buy. I think the folks at Zillow got it right," said top Las Vegas real estate agent Hoke.
To read more about the Zillow rankings and how Las Vegas ranked fourth, visit Leslie's blog at: http://www.lasvegashomesbyleslie.com/blog/
About Leslie Hoke
Leslie Hoke is a Las Vegas realtor with over 11 years of experience buying and selling real estate in Las Vegas Nevada. After a successful tenure at the Disney Corporation, Leslie moved to Las Vegas to pursue her goal of a successful career in real estate.
Leslie has earned several industry awards and accolades including being named "Top Realtor in Las Vegas Nevada" by RE/MAX four consecutive years (2011-2014). Ms. Hoke is a member of the Greater Las Vegas Association of Realtors and National Realtor Association with certifications in short selling, condominiums, and new construction. She is known for her excellent customer communication, savvy marketing strategies, and top-notch negotiation skills. As a long-time Las Vegas resident herself, Ms. Hoke provides a wealth of local market information to help her clients reach their real estate needs.