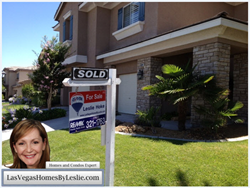 Las Vegas is one of the most affordable major metro areas to live in
Las Vegas, NV (PRWEB) March 13, 2015
Leading Las Vegas realtor and blogger Leslie Hoke announced the release of the latest Las Vegas real estate market statistics on her real estate blog. The latest round of data is consistent with the current narrative that the Las Vegas real estate market, which was hit hard by the mortgage crisis, is on the way to recovery and poised for a solid 2015.
"I've always tried using macro-statistics to help my clients make data-driven decisions. Real estate is such an emotional process that it can sometimes cloud decision-making. It can lead people to making choices that are not in their best interest. By using statistics to drive the process, I can help my clients make the right decision for their long-term futures as well as their immediate real estate needs," said Hoke, who runs the popular Las Vegas real estate website and blog Las Vegas Homes By Leslie.
"The latest data tells us that Las Vegas is one of the most affordable major metro areas to live in. The average sale price of a home for December was just over $200,000. That won't buy you much in other major markets, but in Las Vegas, that can get you a great home," Hoke said.
"The data is also showing that the market is stabilizing, which makes outcomes more predictable. I think this is going to ease a lot of peoples' fear about jumping back into the market," said Top Realtor in Las Vegas Leslie Hoke.
To learn more about the latest Las Vegas real estate market trends and how it is affecting buyers and sellers, visit Leslie's blog at http://www.lasvegashomesbyleslie.com/blog/las-vegas-home-prices-stay-steady-during-winter-season-as-local-real-estate-market-continues-to-stab.html
About Leslie Hoke
Leslie Hoke is an award-winning Las Vegas Realtor with RE/MAX Premier Realty Group. Leslie has been selling homes in the Las Vegas area for well over a decade after a successful business career with Disney Corporation. Leslie owns and operates the popular Las Vegas real estate website and blog Las Vegas Homes By Leslie.
Ms. Hoke earned RE/MAX's award for 'Top Las Vegas Realtor" in 2011, 2012, 2013 and 2014 due to her results-oriented approach to helping her clients meet their real estate needs. Ms. Hoke is a member of the Greater Las Vegas Association of Realtors and National Realtor Association. She is a certified short sale specialist, and has expertise in the areas of condominiums and new construction. Leslie is known for her client customer service, savvy marketing strategies, and track record of success. As a long-time Las Vegas resident, Ms. Hoke brings a wealth of knowledge about the Las Vegas real estate market.
Contact Info:
Name: Leslie Hoke
Organization: Las Vegas Homes By Leslie
Address: 8010 W. Sahara Ave #150 Las Vegas, NV 89117
Phone: (702) 321-1763