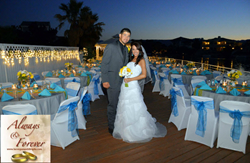 The average wedding costs $30,000
Las Vegas, NV (PRWEB) June 03, 2014
Award-winning Las Vegas wedding consultants Always & Forever Weddings and Receptions is offering an all-inclusive wedding and reception package good for up to 50 guests for a limited time only. The Gazebo Ruby Special includes use of the exclusive Lakeshore Venue and Gazebo allowing couples to say "I Do" overlooking pristine waters from the location's private deck.
Always & Forever Spokesperson Raquel Ryan said, "The average wedding costs $30,000. Many couples do not want to spend that kind of money, and be burdened with debt right after they say, "I do." Brides still want that fairytale wedding, and we provide that for just a fraction of the cost without cutting corners. We're proud to offer them excellent services, great locations, and value."
The Gazebo Ruby Wedding Venue in Las Vegas Special includes ceremony, reception, drinks, and dinner buffet, and cake for up to 50 guests. Some of the highlights of the limited time special include:

Use of the Lakeshore Gazebo for 60 minutes
Use of Bridal Room for 30 minutes prior to ceremony
Minister – religious or civil
Professional photographer
DVD of ceremony
Use of reception location for three hours
Complimentary limo service for six
Two-entrée buffet with drinks and sides
Professional DJ
Ms. Ryan went on to say, "The Lakeside Wedding Venue in Las Vegas is one of our most popular. Who doesn't want to get married on a 38-acre lake with a private dock? I get thank you messages all the time from happy couples that were amazed we offered this level of service and locations for the price."
For more details about the Gazebo Ruby Special and to book your wedding packages in Las Vegas, call Always & Forever Weddings and Receptions at: 702-318-5683
About Always & Forever Weddings and Receptions
Always & Forever is an award-winning wedding and ceremony consulting firm with several indoor and outdoor ceremony and reception venues throughout the Las Vegas area. The firm is owned by renowned wedding consultant Raquel Ryan.
Location:
Always & Forever Weddings and Receptions
2902 Lake E Dr, Las Vegas, NV 89117
(702) 318-5683 | (800) 259-2978
Contact Name: Raquel Ryan
Contact Phone: 702-318-5683
Website: https://www.facebook.com/AlwaysForeverWeddingsandReceptionsLasVegas