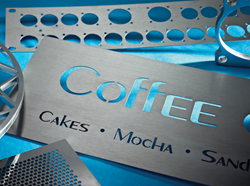 We now operate a continental shift system, offering our customers a 24/7 facility. With our focus on customer service, the extra capacity generated gives us the opportunity to consistently offer an excellent response to customer requirements.
Rotherham, South Yorkshire (PRWEB UK) 10 November 2014
Following significant investment in new Bystronic laser cutting equipment and a marked upturn in the demand for laser cut steel and aluminium for industrial applications, Specialised Laser Products Ltd (SLP) of Rotherham has gone continental with the move to a European 12 hour shift pattern, operating four 3 man shifts. This reorganisation of manpower and resources means the company can now operate 24/7, rather than relying on staff working weekends.
SLP's work involves using advanced laser cutting techniques to produce the component parts used in many everyday products that we all come into contact with - and plenty more that we don't – ranging from cash machines and industrial catering equipment to carrot toppers and sword blanks! The potential is infinite, and SLP's customers include all types and sizes of business from individuals to multi-nationals.
SLP recognised that in order to grow the business and ultimately increase turnover, a fundamental operational change was required. The laser cutting industry expects a fast response; turnaround in two to three days is the norm. Moving to 'continentals' has allowed SLP to increase the throughput whilst maintaining the quality of cut required by their clients. This has been further supported with the acquisition of new plant and equipment, including a third fork lift truck and a new 1.3 tonne flatbed vehicle. To ensure fast turnaround SLP also have large stocks of sheet metal including Mild Steels, Stainless Steels, Spring Steels and Tool Steels.
The extra capacity also allows the company to compete on much larger jobs within the industry and still achieve the demanding lead times. The local job market has also benefited, with extra staff being employed to deal with the increased deliveries of sheet metal and the increased dispatch of the finished laser cut products. Excellent relations with local haulage companies ensures the finished product can be delivered quickly and efficiently anywhere in the UK.
This year Specialised Laser Products achieved the Barnsley & Rotherham 'Highly Commended' award for the category Tata Steel Excellence In Manufacturing Award. With their increased turnover and profit, commitment to investment in new technology and ability to react quickly to clients needs, it's likely they'll be receiving further accolades in the future.