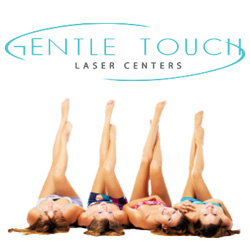 Hair Today, Gone Tomorrow!
New York, NY (PRWEB) January 29, 2014
With the significant increase in the number of individuals wanting to permanently get rid of unwanted hair, Gentle Touch Laser Centers, the leading center providing laser hair removal for both men and women in New York City, now makes it easier. The center, which is located at 315 Madison Avenue, is known not only for the efficacy of the treatments rendered, but also for the professionalism of its staff members.
The certified and licensed laser technicians are all experts when it comes to performing hair reduction treatments on all skin types.
At Gentle Touch, patients looking for a way to safely and effectively rid their bodies of unwanted hair can choose from a variety of laser hair removal treatment programs that are tailored to their needs. Through the use of top of the line laser devices, the center's clients are able to quickly obtain smooth and silky hair-free skin.
Customers of the center can expect only the best and the most comprehensive systems, all of which have been approved by the FDA. These technologically advanced methodologies for laser hair removal are specifically designed for each type of skin and hair.
While it is true that patients can easily call Gentle Touch Laser Centers at 800-516-7608, the center has decided to make it even easier for clients to take advantage of the high quality services it provides. This is through the implementation of a new online appointment system. This new system being used is in the hopes of making patients experience even more convenient whenever they need and want to enlist the services of the center.
Thanks to the new online appointment system, Gentle Touch Laser Centers is able to take care of their patients at an even higher level. One of the best features of the system is its online booking, which presents open slots and available schedules in an easy-to-understand manner. Clients can also create their own profiles and track their treatment progress and schedule. Automation of client notifications through email and text, point of sale, privacy safety, and security are some of the other impressive aspects of the system.
At Gentle Touch Laser Centers patients can only expect the best and the most comprehensive laser hair removal treatment programs. This is because the center makes use of the FDA approved Cynosure Elite Aesthetic Workstation. There are many things that make this particular system obtain higher scores in effectiveness, safety, and customer satisfaction compared with the other laser hair removal systems available in the market today. Here are some of them:

The Cynosure Elite Aesthetic Workstation comes with a 755-nm wavelength, which has high melanin absorption characteristics and provides tried and tested long term results in permanently reducing hair and removing pigmented lesion.
The system also uses 1064-nm Nd:YAG, which is considered to be the safest wavelength when it comes to permanent hair reduction on patients who have darker skin and tanned skin. This is also the wavelength preferred and recommended for facial and leg vein treatment.
The high fluency delivered by the system also ensures that the laser is able to penetrate deeper, thus resulting in treatment sessions being quicker and with optimal results.
Gentle Touch Laser Centers is located at 315 Madison Ave Suite 201, New York, NY 10017. To make an appointment, call them at 800-516-7608 or book an appointment online at http://www.gentletouchlaser.com.