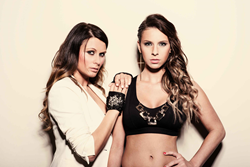 I didn't hesitate a moment to enter the (Let's Go Lasgo) contest. This adventure has changed my life. - Jelle
Port St. Lucie, FL (PRWEB) July 01, 2014
2014 brings to you the ultimate dance music battle tour, Lasgo vs Ian Van Dahl. The two EDM legends, both represented by Hitt bvba / Nene Musik Llc., go back to back live on stage bringing you a compilation of all the biggest hits since the millennium. Their musical set will feature such hits as "Something," "Alone," "Surrender," "Castles In The Sky," "Will I," "Reason" and much more. This tour is only available in 2014.
Lasgo is a Belgian trance group founded in 2000. The group consists of Jelle Van Dael (vocalist), Peter Luts and Jef Martens (record producers). In 2008, the original vocalist, Evi Goffin, was forced to leave the group and Jelle Van Dael took her place. When producer Peter Luts and TV station JIM went looking for a new singer for Lasgo, they never imagined finding such an amazing leading lady as Jelle van Dael. In only a few years, Jelle conquered the charts and managed to become a worldwide Artist and TV Host.
"I didn't hesitate a moment to enter the (Let's Go Lasgo) contest. This adventure has changed my life," says Jelle. Every song Lasgo releases goes straight into the charts, and every week, Jelle goes from stage to stage in Belgium and abroad to amaze her audience with her power and charm. After every gig, many fans are waiting for her at the backstage door hoping to catch a smile from their idol. However, Jelle doesn't only work the stages, you can see her on TV. In 2010, she was one of the most noticed dancers on the Belgian version of Strictly Come Dancing. Recently, she joined JIM's core VJ-team. Of course, Jelle still loves music more than anything else.
Ian Van Dahl, is an electronic dance music group from Belgium. AnnaGrace, whose real name is Annemie Coenen, is the front lady of the group, and until further notice - the only Belgian musician who defeated Moby in a direct contest. It all happened at the 2002 Top of the Pop-Awards. AnnaGrace won the much contested and desired Dance Award for the song "Castles In The Sky." The world press could not get enough of her quotes, and all of a sudden, everybody knew her name.
Today, AnnaGrace has performed for large audiences from Brazil to England, which has left her with a lot of stage experience. In 2010, she released a new album called, "Ready To Dare." This album is a mosaic of fresh pop tunes and feel good dance melodies. Additionally, she writes her own songs which cannot be taken for granted in the dance scene. AnnaGrace is ready to celebrate her love for music and take over the world!
Come see these two amazing dance groups battle on their 2014 Tour. Dates to be announced. View the promo trailer here: http://youtu.be/5SGujztLC24.
About Nene Musik Productions, Llc.:
Nene Musik Productions, Llc. (http://www.nenemusik.com) was established in 1989. Today, It is a boutique Artist Management and Consulting Agency that services Recording Artists, International DJ's and Celebrities. Dennis Rodman, La Bouche, Cascada, Mia Martina and Tune~Adik's Vic Latino are just of few on Nene Musik's client roster. Nene Musik's experience and commitment to excellence have earned them the reputation as one of the best Artist Management / Consulting companies in the World.
For Interviews, contact: Alexandra Kulak - Nene Musik Productions, Llc. promo(at)nenemusik(dot)com 772-807-8305 http://www.nenemusik.com