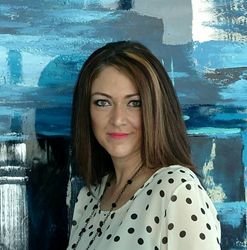 My vision has never been 20/15 even with glasses or contacts. It was 20/15! … What's even more amazing is that 14 years later, my vision is still 20/15.
Charlotte, NC (PRWEB) August 30, 2016
Michelle Rich's sight is 20/15 after a LASIK Procedure at Christenbury Eye Center more than 14 years ago. Erin Colvard had LASIK surgery more than 15 years ago and today her sight is 20/20. Both of these women recently visited Dr. Christenbury for a follow-up eye exam and the results were exciting. LASIK procedures are meant to last a very long time; however, 14 and 15 years without a change to vision is remarkable.
At Christenbury Eye Center, previous surgery patients are often seen for annual eye exams. Two recent exams brought to light the success of the Center's work in LASIK surgery.
Michelle Rich had a LASIK procedure more 14 years ago, and her vision is still 20/15.
Michelle Rich decided to undergo a LASIK procedure with Dr. Jonathan Christenbury. She had been told by other doctors she did not qualify for the surgery because of her astigmatism. However, after an in-depth examination at Christenbury Eye Center, Dr. Christenbury determined she was, in fact, a prime candidate for LASIK. The day after her surgery, Rich's eyesight was 20/15.
Rich says, "My vision has never been 20/15 even with glasses or contacts. It was 20/15! … What's even more amazing is that 14 years later, my vision is still 20/15."
Every year, when Rich would come back to Christenbury Eye Center for an annual exam, she thought she would need readers. She says, "No! My vision is STILL 20/15. Absolutely Amazing."
Erin Colvard had LASIK surgery 15 years ago, and her vision is still 20/20.
Colvard's biggest issue was that her eyes were so dry. By the end of the day, her contacts were difficult to remove because of the dryness. Drops never worked, and she felt that she didn't look good in glasses and they were hard to keep clean. She decided to have a LASIK procedure with Dr. Christenbury.
"I've been a swimmer all my life and before LASIK I had to wear goggles all the time because I had to wear contacts to swim and see under water…. I always had to make sure no one splashed me in the face or that I was wearing goggles because I was afraid I would lose a contact lens in the pool or ocean, which happened many times," says Colvard. "I had LASIK over 15 years ago. My vision now is 20/20. For anyone waiting to have LASIK, I would tell everyone, do it now! Don't wait. Go have a consultation with Dr. Christenbury and see if it's right for you."
If you would like to see if you qualify for a LASIK procedure, contact Christenbury Eye Center at (877) 702-2020 or visit the Christenbury Eye Center website.
About the Christenbury Eye Center
Dr. Jonathan Christenbury established Christenbury Eye Center in 1987 and is known for his groundbreaking work in vision care. For two decades he has consistently been one of the first surgeons in the Carolinas to perform many pioneering vision care procedures including LASIK, Visian ICL and TECNIS.
Dr. Christenbury performed the first LASIK procedure in the Carolinas in the early 1990s and since that time has performed more than 100,000 laser vision correction procedures. He performed the first WaveFront Customized IntraLASIK in the Carolinas in 2005. In the Spring of 2005, he was the first in the Carolinas to perform the ReSTOR procedure that treats Presbyopia and can eliminate reading glasses and bifocals. Today, Dr. Christenbury is the most experienced multifocal implant surgeon in the United States.
Dr. Kenneth Mathys is a Board-Certified, fellowship-trained Cornea and Refractive surgeon. He earned his medical degree at Case Western Reserve University. He completed an ophthalmology residency at the University of North Carolina at Chapel Hill where he was honored with the position of Chief Resident. Upon completion of residency, Dr. Mathys continued his ophthalmic training as a Cornea and Refractive surgical fellow at Piedmont Hospital in Atlanta, GA. Dr. Mathys is a member of the American Academy of Ophthalmology and the American Society of Cataract and Refractive Surgery.