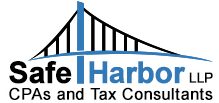 Our goal is to make tax filing as painless as possible," explained Chun Wong, Managing Partner at Safe Harbor LLP.
San Francisco, CA (PRWEB) August 12, 2013
Safe Harbor LLP, a top San Francisco Tax and Accounting Firm, is proud to announce a readiness program for last minute individual tax filers. Despite their best plans, many individuals file for an automatic tax extension in April only to wait until the last minute for the October tax deadline for extended individual returns.
"Our goal is to make tax filing as painless as possible," explained Chun Wong, Managing Partner at Safe Harbor LLP. "However, many individuals try to do their own taxes, or use a poorly prepared tax service, and end up waiting until the last minute to file their individual California and Federal taxes. Our readiness program assists them with last minute tax return filings for individuals."
To find out more about the program, simply visit the San Francisco CPA firm's website at http://www.safeharborcpa.com/ and send the firm a message. The firm specializes in higher income individuals with more complex tax issues, but a phone consultation can determine whether the firm can help an individual with required tax issues in an efficient manner.
2013 Individual Tax Filing Deadlines
Many tax filers are not aware of the differences in individual vs. corporate tax filings. Typically, corporations are required to file their taxes by March 15th of each year. At that time, corporations may also file for an automatic extension. The automatic extension deadline then becomes typically September 15th of each year. In 2013, September 15th falls on a Sunday and therefore the Internal Revenue Service (IRS) extends the deadline by one day. Individuals, in contrast, typically file in April and can file for an automatic extension until October. Regardless of any extension, taxes are required to be paid on time; it is the return itself that can be postponed. Clients who work with an efficient tax service such as Safe Harbor LLP are typically prepared, in advance, to meet all regulatory and filing deadlines. Nonetheless, events happen and so the firm's readiness program means timely assistance to individual tax filers who are in need of help.
IRS Circular 230 Notice
The Internal Revenue Service requires Safe Harbor LLP to inform the reader that any tax advice contained in this correspondence cannot be used for the purpose of avoiding penalties under the Internal Revenue Code or for promoting, marketing or recommending to another party any transaction or matter addressed.
About Safe Harbor LLP A Professional CPA Firm in San Francisco
Safe Harbor LLP is a CPA firm that specializes in accounting and tax services for individuals and businesses throughout the San Francisco Bay Area and greater California. Safe Harbor CPAs helps both individuals and businesses with tax preparation, IRS audit defense, and audited financial statements. The firm prides itself on friendly yet professional service and utilizes state-of-the-art Internet technology to provide quality customer service.
Safe Harbor CPA
http://www.safeharborcpa.com
Tel. 415.742.4249