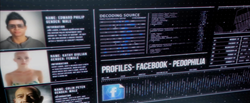 The biggest challenge with this type of campaign is, in fact, impacting the users who have a disorder - Brunno Barbosa
Sao Paulo, Brazil (PRWEB) August 03, 2015
This action against child pornography consumption created by Brazilian NGO, Bandeiras Brancas ("white flags" in Portuguese), has been selected as a finalist in the Festival AD STAR 2015. Major brands like Samsung, Heineken, Hyundai, and Burger King will participate in this event. The festival welcomed nearly 17,000 competitors and will take place August 22 in South Korea.
For the event this year, registrations were presented in a total of twenty-two categories and juries of more than 62 countries. Europe held the most countries that participated.
The works chosen as finalists for this year will undergo two final rounds until August 18 before the winners of the Grand Prix, Gold, Silver and Bronze Awards are selected. In particular, the most distinguished works in the Product and Service category and the Public Service Ads category will be given the honor of winning Grand Prix of the Year as well as a cash prize of $10,000 USD each.
Bandeiras Brancas' entry focuses on the child pornography industry, with a concentration on Brazil, the home country of Brunno Barbosa, founder of Bandeiras Brancas. According to Barbosa, the idea for the documentary campaign came about after noticing that around the world, and especially in Brazil, people share via social media and through mobile apps videos and pictures with sexual content involving minors.
To create this documentary, research and findings for the campaign were documented and transformed into an international documentary that can be viewed at http://www.thelastsearch.bandeirasbrancas.com.br. The site also explains the project, the child pornography addiction, and how treatments work. "We are delighted to be selected for the festival. It shows the importance that our organization has gained over time," says Barbosa.
Banderias Brancas divided the documentary campaign into three phases, with the main goal of understanding the profile of people who are interested in child pornography and driving them to appropriate treatment. The phases included:
Releasing the news – In partnership with humorous website, "Sensacionalista," a fictitious news announcement was launched. It said a 12-year-old girl had put silicone in and was going to pose naked in the hopes to get money to travel to Disney. More than 70,000 people responded, among them curious voyeurs and pedophiles.
Ranking on Google – The news made it to the front page of Google, which in turn, brought on a surge of people who truly were interested in child pornography. After securing their profile information, Barbosa identified a pedophile profile: men aged 25 to 55 years old.
Interacting and guiding – Barbosa collected and filtered the data and contacted these people through a page created on Facebook. This process allowed Barbosa to talk with more than 1,600 users interested in child pornography and refer them to specialized clinics or professionals who could offer treatment.
The Federal Government of Brazil praised Bandeiras Brancas: this "Internet campaign uses creativity to denounce child abuse."
About Bandeiras Brancas:
The NGO Bandeiras Brancas was founded in February 2012 by Brunno Barbosa and seeks ways to use communication and technology to spread peace. The company has already addressed matters such as organ donation, drinking and driving, the day of peace, war in Syria, and many more. To learn more, visit http://www.bandeirasbrancas.com.br