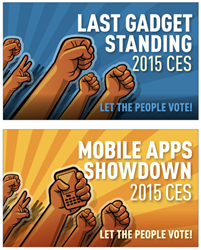 These companies represent the absolute best of innovation at the show. They are each game-changers in their own right.
Las Vegas, NV (PRWEB) January 08, 2015
Last Gadget Standing and Mobile Apps Showdown, produced by Living in Digital Times, were the hottest competitions in town, drawing a packed house, and a ton of laughs and applause at the 2015 International CES®. Proving to wow the crowd with his robotic charm in Last Gadget Standing's 14th year, Meccanoid was the audience fan favorite, while SCiO, captured the online vote. For the 5th Annual Mobile Apps Showdown, Lyve and uCiC, tied for the coveted prize as the best app at the live event, while uCiC, took home the online win.
Back again to keep things moving and keep the crowds entertained is Jon Hein of Howard Stern's The Wrap-up Show on Sirius XM who brought his witty quips and fun trivia breaks complete with freebies and swag for the audience. Attendees were treated to presentations complete with Las Vegas showgirls, live karaoke, the tech version of Coke vs. Pepsi, a life size iPhone work out, and perfectly baked cookies.
"These companies represent the absolute best of innovation at the show. They are each game-changers in their own right." said Robin Raskin, founder and president of Living in Digital Times. "What makes these events unique is that the audience decides and history proves them right."
Last Gadget Standing 2015 Top Ten Gadgets

EKOCYCLE Cube from Cubify
Meccanoid from Meccano
RestOn from Sleepace
Petziconnect from Petzila
Phorus PS5 Speaker
Ring Video Doorbell from Ring
SCiO from ConsumerPhysics
Singtrix
V.ALRT from VSN Mobil
YOGA Tablet 2 with AnyPen Technology from Lenovo
Mobile Apps Showdown 2015 Top Ten Apps

Blur from Abine
Breathometer
Fitnet
Hi.Q
Lyve
Perfect Bake from Pure Imagination
SHAREit from Lenovo
SPOT-ON from Wajam
Yuggler
uCiC
So, how does a product prove their staying power by being the Last Gadget Standing? How does an app come out on top at the showdown? Last Gadget Standing looks for devices and products that prove to be sustainable and will impact consumers beneficially, while Mobile Apps Showdown honors the best in mobile technology across all platforms.
In early December 2015, eligible products and apps were submitted and two panels of esteemed judges and technology experts, including journalists, editors, products reviewers and technology consultants, narrowed the field down to the Top 25 semi-finalists for each competition. Judges chose products based on their ability to stand out among the heap of exciting new products and apps. After heated debate and discussion the judges took it one step further and selected the Top 10 gadgets and Top 10 apps that would ultimately compete in a live competition and online vote at the 2015 International CES. Winners of online voting were determined by popular vote, and in person, an applause-o-meter measured audience enthusiasm to determine the winner.
Follow Last Gadget Standing and Mobile Apps Showdown on Twitter @GadgetLast, "like" Mobile Apps Showdown on Facebook and use the hashtags #LastGadgetCES and #MobileAppsCES.
About Living in Digital Times
Founded by veteran technology journalist Robin Raskin, Living in Digital Times brings together the most knowledgeable leaders and the latest innovations impacting both technology and lifestyle. It helps companies identify and act on emerging trends, create compelling company narratives, and do better business through strong network connections. Living in Digital Times produces technology conferences, exhibits and events at the International CES and other locations throughout the year by lifestyle verticals. Core brands include Digital Health Summit, FitnessTech Summit, Lifelong Tech, Kids@Play Summit, Family Tech Summit, TransformingEDU, MommyTech TV, Wearables and FashionWare runway show, Mobile Apps Showdown, Last Gadget Standing, Battle of the Bands, and the KAPi Awards. The company also works with various foundations and manages the Appreneur Scholar awards program for budding mobile entrepreneurs. For more information, visit LivinginDigitalTimes.com and keep up with our latest news on Twitter, LinkedIn and Facebook.
About CES
The International CES is the world's gathering place for all who thrive on the business of consumer technologies. It has served as the proving ground for innovators and breakthrough technologies for more than 40 years—the global stage where next-generation innovations are introduced to the marketplace. As the largest hands-on event of its kind, CES features all aspects of the industry. And because it is owned and produced by the Consumer Electronics Association (CEA), the technology trade association representing the $211 billion U.S. consumer electronics industry, it attracts the world's business leaders and pioneering thinkers to a forum where the industry's most relevant issues are addressed. Follow CES online at CESweb.org and through social media: cesweb.org/social.
###