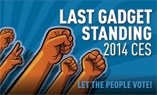 CES showcases the introduction of thousands of new products, but only the best survive.
Las Vegas, NV (PRWEB) January 06, 2014
Today, Living in Digital Times announced the finalists for the Last Gadget Standing competition, a longtime CES favorite where the audience votes on the hottest gadgets at CES. From a device that helps one track misplaced glasses and an app that works like a door lock key, to a smartphone for kids and an opportunity to understand and monitor one's pet like never before, the finalists at this year's Last Gadget Standing are bringing innovation and ingenuity to a new level.
Finalists were selected by an expert judging panel. At the live event on January 9th an audience of 500 CES attendees will vote for the winner via an applause-meter. There's also an online vote which is open now through January 9, 2014 at 9 a.m. EST at http://lastgadgetstanding.com/voting/. Two winners, a live vote and an online vote will be announced.
The live event, which includes spectacular product demos, is hosted by Gary Dell'Abate and Jon Hein of Howard Stern's "The Wrap Up Show," is a must see for anyone attending CES. It's held on January 9th from 10:30 a.m. to 12:00 p.m. PT in North Hall, Room N255 in the Las Vegas Convention Center.
"CES showcases the introduction of thousands of new products, but only the best survive," said Robin Raskin, founder of Living in Digital Times. "This is the 14th year we've let the crowds decide what's best, and they've never let us down."
The Ten 2014 Last Gadget Standing Finalists:
Aim from Skulpt
Skulpt Aim is the first-ever device to measure total body composition as well as fat percentage and muscle quality of individual muscles. Aim displays metrics instantly on the screen, and automatically syncs with a personal online dashboard to track results over time, set goals, and share with friends. For the first time, Skulpt makes this technology accessible to consumers, and completely revolutionizes how technology and fitness unite.
Judges said, "This is an iPhone-sized device that uses electrical impedance to gauge how much of your body is muscle and how much is fat. Taking the quantified self to the next level, AIM goes beyond traditional fitness monitors to look at muscle quality and tone."
Canary from Canary
Canary is the first smart home security device for everyone. It is a single device that contains an HD video camera and multiple sensors that track everything from motion, temperature and air quality to vibration, sound, and activity to help keep consumers, their family and their home safe. Controlled entirely from an iPhone or Android device, Canary alerts one when it senses anything out of the ordinary.
Judges said, "Home surveillance systems are usually complex to setup. Canary aims to change that by being a one-stop box you can plop on the table and forget about. Canary's built-in sensors and web cam will do the heavy lifting for you. Having one central solution for all your home monitoring and security is a huge breakthrough."
Galaxy Gear from Samsung
Galaxy Gear™ extends the Galaxy smartphone experience to one's wrist and enhances everyday moments with real time updates for quick and convenient access. With a brilliant 1.63-inch Super AMOLED® screen, the sleek wearable device features a full metal body design and a comfortable strap. Galaxy Gear gives consumers a new and interactive wearable smartphone experience and raising the bar again for the mobile industry.
Judges said, "Samsung's Galaxy Gear is one of the first of a new generation of smartwatches. A built-in speaker and microphone let you make calls or voice control your phone, directly from your wrist while a camera on the band helps you shoot stealth photos. You can even check for important messages from HQ, without removing your phone from your pocket. The Galaxy Gear makes your smartphone smarter."
Glasses TrackR from Phone Halo
Glasses TrackR is a small tracking device designed for eyeglasses and sunglasses that slips onto the frame of one's favorite pair of eyewear, and the first of its kind. Once attached, the TrackR app on one's phone will automatically manage the location of one's glasses'. Consumers can stop losing moments looking for lost eyeglasses and worrying about their favorite pair of sunglasses with Glasses TrackR.
Judges said, "This is the first device that answers the nagging question, "where did I leave my glasses?" A small tab with a very thin button battery attaches to the earpiece of your glasses. If you misplace them, you can use your smartphone to track them down locally. For those of us who are constantly putting down glasses or sunglasses, this may be one of the most useful gadgets I've seen this year."
JamStik from Zivix
It's easy to learn, practice and play guitar on one's own time and pace with the JamStik, a new music gadget unlike anything else on the market. JamStik's interface simulates real strings, real frets and real picking, plus with patented infrared technology one can see their fingers as they play.
Judges said, "The iPad and other tablets have been great tools for musicians and aspiring musicians. The JamStik creates a portable instrument that can help people learn guitar or get a quick fix for their licks on the go. It's the most realistic of the digital instruments we've seen yet."
Kevo Lock from Kwikset
Kwikset's Kevo smart lock turns smartphones into keys, giving owners the ability to unlock the door with just a simple touch. Paired with the Bluetooth Low Energy™ 4.0 technology, the Kevo mobile app turns a compatible smartphone into an eKey. The free mobile app is used for initial setup, locking and unlocking, sending, disabling and deleting eKeys, viewing history of lock activity and setting up other features of the lock.
Judges said, "Using metal keys to unlock your doors is so twentieth century. With the Kevo Lock, you can use your smartphone or a digital key fob to unlock your doors with a tap. You can even send digital keys to your maid or your cat sitter that only let them in for a limited time."
Kurio Phone from Techno Source and KD Interactive
The perfect first phone for kids, Kurio Phone has all of the sophisticated smart phone features kids want, combined with the advanced parental controls and safety features for which parents have been waiting. The Kurio Phone features robust parental, including app management, time control features and the Kurio Genius™ Internet filtering system. Kurio Phone will also feature technology that allows kids to contact parents in case of emergency, as well as geo-location and geo-fencing technologies that allow parents to know exactly where their kids are and receive an alert if they leave a designated area.
Judges said, "There have been a few failed attempts at creating a phone especially for kids, but now we have a new contender that's a perfect match between safeguarding kids and providing an intro into the wonderful world of mobile phones. With Bluetooth, Wifi, 3G, front and rear facing cameras, this kid's phone doesn't skimp on the features either."
Lenovo N308 Multi-Mode 19" Android All-In-One
The Lenovo N308 is a 19.5" Android home all-in-one computer, combines one's favorite apps with a big HD+ infrared touchscreen. The N308 comes with an Nvidia Tegra quad-core ARM processor, up to a 500GB HDD with an integrated battery offering three hours of battery life.
Judges said, "Lenovo is taking the Android platform to the next level. Literally. It's the one of the first of a new class of large-format Android device. It also has an adjustable kickstand so you can use it at whatever angle is comfortable."
MiP Robot from WowWee
MiP (short for Mobile Inverted Pendulum), with its unique dual wheel balancing, is a fully interactive robot able to navigate its surroundings while controlled by hand gestures or through a Bluetooth link to any smart device. MiP has an inquisitive and responsive personality that is communicated through motion, sound, and its LED "eyes".
Judges said, "Think Segway meets robotics. This little robot zooms around on a gyroscopic base and reacts to your hand gestures. It's the next step forward it smart robot toys."
Voyce
i4C Innovations' revolutionary new service, VOYCE, allows pet parents to understand their dogs like never before. VOYCE gives new meaning to the phrase "unconditional love" through wearable technology, expert advice, and social sharing.
Judges said, "2014 may go down as the year that pets met the Internet. VOYCESM tickled our imagination by creating one of the first health and wellness products for dogs. Sensor technology provides insights into your dog's health, behavior, and overall well-being. OK, your dog isn't going to learn to speak English anytime soon, but you'll be able to understand more than ever about man's best friend."
About Living in Digital Times
Living in Digital Times produces conferences and exhibits throughout the year that bring together the most knowledgeable leaders and the latest innovations that intersect technology and lifestyle. Among their many goals is to help companies understand what it means to be a consumer in today's digital world and stay a step ahead in identifying key trends in their given marketplace. Living in Digital Times produces the following summits, exhibitions and events annually at International CES: Digital Health Summit, Silvers Summit, FitnessTech Summit, TransformingEDU, Kids@Play Summit, MommyTech Summit, Mobile Apps Showdown, Last Gadget Standing, FashionWare Show and the KAPi Awards. For more information, visit http://www.LivinginDigitalTimes.com.
About CES
The International CES is the world's gathering place for all who thrive on the business of consumer technologies. It has served as the proving ground for innovators and breakthrough technologies for more than 40 years—the global stage where next-generation innovations are introduced to the marketplace. As the largest hands-on event of its kind, CES features all aspects of the industry. And because it is owned and produced by the Consumer Electronics Association (CEA), the technology trade association representing the $203 billion U.S. consumer electronics industry, it attracts the world's business leaders and pioneering thinkers to a forum where the industry's most relevant issues are addressed. Follow CES online at http://www.CESweb.org and through social media: http://www.CESweb.org/social.