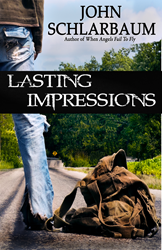 Even with 35% of the original storyline gone the book is 99% better; With writing, less is often more.
Amherstburg, ON., Canada (PRWEB) September 15, 2015
With his new novel, 'Lasting Impressions', author and playwright John Schlarbaum is attempting to make a great first impression with readers for the second time.
After writing four successful mysteries, Schlarbaum felt it was time to explore another popular genre by going back in time to his first novel, 'Lasting Impressions'. A psychological thriller in the vein of Stephen King, Clive Barker and Dean Koontz, it tells the story of a drifter who causes havoc with the good residents of Lasting, a small rural community. A young man with a horrifying past, the main character Dale Hawks is continuously fighting his inner demons to stay in control of the world he's created for himself.
"In 1990 I was twenty-four years old, working as a television field director/writer and reading novels that involved characters dealing with paranormal or psychological issues that were out of their control. I set 'Lasting Impressions' in my hometown and began to wonder how the townsfolk might react to a mysterious hitchhiker in their midst."
Schlarbaum convinced the local library to carry copies of the book for three months. The marketing twist was patrons could then fill out a questionnaire, giving the first-time novelist valuable feedback about the storyline and characters. "I think the idea of getting a book in the hands of avid readers and then receiving their honest thoughts back in one week was ahead of its time," Schlarbaum says. "It was a new concept that was met with a great deal of enthusiasm. Finally, these book lovers could make their opinions known to the author immediately."
With the questionnaires in hand, Schlarbaum reworked 'Lasting Impressions', editing the sprawling 150,000 word storyline and trimming 37,000 words. "Most of the cuts consisted of eliminating back stories that slowed the rhythm of the main plot. Unfortunately, once I was done the process, life got in the way and the shortened version was shelved."
Fast forward 25 years: "With each new mystery I wrote, I believe I've become a much better writer. Using my newfound skills for pacing and character development, I thought it would be the perfect time to revisit 'Lasting Impressions'.
The present day editing undertaking has yielded new plot additions and surprises, a better clarification of each character's role and more cuts. "I've deleted approximately another 19,000 words. The funny part is even with 35% of the original storyline gone the book is 99% better," Schlarbaum proclaims. "With writing, less is often more."
Believing every artist would love to rework earlier films, books, plays or music projects with a more mature eye, Schlarbaum is confident his latest novel, over two decades in the making, will make a favourable first impression all over again.
'Lasting Impressions' is available as an eBook from eBookIt.com.
'Lasting Impressions' is also available in trade paperback.
Author Bio:
John Schlarbaum began his professional writing career working as a Writer and Field Director for several nationally syndicated television programs. He has worked as a Private Investigator, co-owned an independent bookstore, reviewed books for CBC Radio, and written mystery novels and plays.
Contact Information:
Scanner Publishing
1106-5060 Tecumseh Road East
Windsor, ON. N8T 1C1
Canada
(519) 987-3625
Website: http://www.scannerpublishing.com
Email: john(at)scannerpublishing(dot)com
Early Reviews:
"A truly disturbing and entertaining read." ~ Alan Coombs, BELL MEDIA
"A frightening tale of what can happen when a small town lets its guard down." ~ Annette Hamm, CHCH TV
'Lasting Impressions' is thrilling to the last page. Dale Hawks will be your undoing." ~ Priscilla Bernauer, In Many Words Or Less BLOG
"The effect Dale has on women is similar to that of the devil-like character in John Updike's classic The Witches of Eastwick. But Lasting Impressions is a much darker work, more reminiscent of Stephen King in tone and style." ~ Best Thrillers Book Reviews
About eBookIt.com
Since 2010, eBookIt.com (based in Sudbury, Massachusetts) has helped thousands of authors and publishers get their books converted to ebook format, and distributed to all the major ebook retailers, including Amazon.com, Barnesandnoble.com, Apple iBookstore, Kobo, Sony Readerstore, Ingram Digital, and Google eBookstore.
###