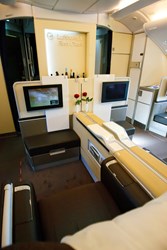 You'll save thousands of dollars on Lufthansa's last minute first class deals.
Chicago, IL (PRWEB) September 09, 2013
Luxurious Lufthansa presents the ultimate in First Class Seats and Business Class Fares.
Exclusive airport terminals, spacious seating, extra-long in-flight beds and delectable dishes are just a few of Lufthansa's notable amenities. Luxuriate in Lufthansa's magnificent first class seats and business class fares with unparalleled discounts from I Fly First Class. Traveler will save thousands of dollars on Lufthansa's last minute first class deals and premium flights to discover the world in ultimate luxury.
Lufthansa: "Nonstop Travel"
Seasoned travelers know all about the benefits of traveling amid the vast Lufthansa network. The world's fourth largest airline, Lufthansa serves nearly 200 international destinations. Offering unrivaled service and an exclusive premium passenger terminal at its Frankfurt Airport hub, Lufthansa is repeatedly named Europe's best airline by the World Travel Awards and the World Airline Awards.
Travelers appreciate the airline's legendary services, from first class and business class seats that recline to a spacious horizontal position to a robust in-flight entertainment system. The airline's exquisite services are noted by airline and travel industry groups, as well, earning Lufthansa a coveted five-star designation from industry reviewer, SkyTrax.
Relish the Luxury of Lufthansa At the Airport
With an entire terminal reserved for Lufthansa's first class passengers traveling through Frankfurt Airport, it's no surprise that the airline earned the No. 1 First Class Lounge Award at the 2013 World Airline Awards. The exclusive 19,375 square foot terminal helps you make the most of a layover with delights such as:
-An extensive wine bar
-Quiet rooms with plush daybeds
-A cozy cigar lounge
-Designer toiletries and
-Many high-end dining options
Best of all, time and comfort is maximized with the aid of an on-site personal assistant, reserved security queues and limousine service to your airplane.
Enjoy Lufthansa's Award-Winning First Class Flights
In the air, Lufthansa's trademark service continues with lavish caviar service on European flights, an ever-changing "Culinary Delights" menu served on the very best linens and ergonomic seats that stretch to 6.5 feet when reclined. Aboard Lufthansa's first class seats, to dine, work, rest and slumber in unmatched comfort and style. With a worldwide ranking of No. 5 for first class cabins, Lufthansa faithfully delivers on its promise for stellar service and first class on-board amenities.
Revel in Spacious Business Class Seats
With the space afforded to business class travelers, traveler won't have to decide between in-flight working and eating. Dine on fresh fare served on fine china, work in privacy, enjoy broadband Internet service or watch movies on personal entertainment systems. Passengers aboard Lufthansa's international business class flights can even use their own smart phones to adjust seat angles for maximum comfort.
Luxury For Less
I Fly First Class gives travelers the freedom to enjoy all of the luxury. With savings in the thousands, traveler can appreciate all of the joys of discounted Lufthansa business class fares, first class seats and last minute first class flights so that traveler arrives at destination ready to achieve the best.
Julia Graft, PR Manager
http://www.iflyfirstclass.com