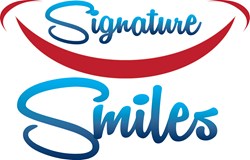 Signature Smiles offer $1 Take Home Teeth Whitening and also a $1 Emergency Exam which includes necessary x-rays.
Las Vegas, NV (PRWEB) August 01, 2013
Premier Las Vegas Dentist, Signature Smiles, is now offering multiple new patient specials for only $1. The first one dollar special is for an emergency exam, and includes any necessary x-rays. The additional one dollar special is for take home teeth whitening when a new patient receives an exam with x-rays. For more information and scheduling for either one dollar special, call (702) 337-2273.
Signature Smiles has been providing exceptional care to dental patients for 2 decades. As a cosmetic dentist Las Vegas respects, Dr. Gil Suarez has been providing veneers, crowns, bridges, dentures, dental implants and more to make patients' smiles straight and white. The Take Home Teeth Whitening offered for one dollar is customized to patients' mouths and is offered to PPO patients.
Those needing same day treatment for emergency dentist care can often be seen at Signature Smiles for chipped teeth, broken implants or dentures, and infections with toothaches. The necessary workup including x-rays only costs one dollar.
An additional special at Signature Smiles is for Invisalign clear braces. The braces offer revolutionary teeth straightening while it is very difficult for people to even notice. The dentist at Signature Smiles is certified in Las Vegas Invisalign treatment and is now offering complimentary consultations and $500 off the treatment.
For those in need of an exam, x-rays and cleaning as a new patient, the first time special is for $59.
For more information and scheduling for any of the current dental specials, call (702) 337-2273.