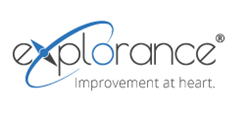 We are dedicated to helping our Latin American clients make better-informed decisions through the use of learning analytics
Montreal, QC (PRWEB) October 16, 2015
eXplorance, the leading provider of Learning Experience Management solutions for the higher education sector, will open a LATAM office in Colombia. This expansion will allow the Montreal-based company to better serve its growing number of Latin American clients by providing region-specific support for their learning analytics needs.
Over the last few years, enrollment in Latin American universities has risen continuously, with Colombia's postsecondary institutions leading the increase. Between 2010 and 2014, Colombia's gross enrollment ratio rose from 39% to 48%. In parallel, Latin American governments have invested an average of 7 percentage points more in higher education relative to their country's GPD, attaining similar investment levels as the American and European counterparts.
eXplorance is helping Latin American universities meet the challenges that arise from such growth while furthering the role of technology in education. Through course evaluations, 360 degree feedback, online survey software and other feedback tools, eXplorance provides organizations with accurate learning analytics that are instrumental for decision making. eXplorance's solution, Blue®, provides institutions with the ability to enter a cycle of continuous improvement, leading to a better learning environment for all stakeholders.
"We are dedicated to helping our Latin American clients make better-informed decisions through the use of learning analytics," says eXplorance CEO Samer Saab. "Opening an office in Colombia will ensure we are closer to our clients to better understand their needs and, as such, eXplorance can assist them more thoroughly in their growth."
Currently, eXplorance's software is being used in postsecondary institutions throughout North and South America, Europe, Asia and Australia. The Blue solution is available in multiple languages, including Spanish. Visit eXplorance's website to find out more about how Learning Experience Management solutions can help your organization through collecting the data and extracting learning analytics.
To meet the growing Latin American (LATAM) client base need for learning analytics, eXplorance expands with a regional office in Colombia.
About eXplorance Inc.
eXplorance is the leading provider of Learning Experience Management (LEM) solutions for education, corporate, and consulting markets. By providing tools that assess needs, expectations, skills, knowledge and competencies, eXplorance assists organizations in developing a culture of improvement.
Blue® is an all-in-one assessment system that includes applications for course and instructor evaluations, 360 degree feedback, psychometric and knowledge tests, organization-wide surveys, and more. Unlike other solutions, Blue powers a cycle of continuous improvement through benchmarking, stakeholder assessment, sophisticated reporting, prescriptive analytics, and constant monitoring. Recently, eXplorance has introduced Bluepulse® and Blue® Text Analytics to provide learning analytics based on social and unstructured feedback.
Founded in 2003, eXplorance is a privately held corporation based in Montreal, Canada. Some of eXplorance's clients include Universidad De Las Americas Puebla (UDLAP), Universidad De Londres (UDL), University of Louisville, RMIT University, University of Toronto, University of Groningen, UAE University, Babson College, The American Petroleum Institute, Fidelity Marketing, IoanDepot and NASA.