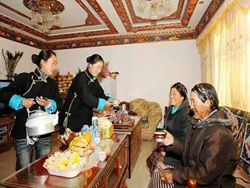 For Tibet travel 2015, You must know more than the Tibet permits inner circle information! It is far beyond! www.tibetCtrip.com has more datails.
Lhasa, Tibet (PRWEB) January 31, 2015
Tibet travel is an experience like none other. While dream-like landscapes and a fascinating culture await visitors there are things everyone should know when they begin planning a tour. Travel permits, when to visit, how to get there, and dealing with the thin mountain air are all considerations for those who make the adventure. Tibet travel expert Tony Yang of Tibet Ctrip Travel Service-TCTS (http://www.tibetctrip.com) shares the details.

All foreign visitors must obtain a Tibet travel permit before they can enter Tibet. Travelers coming from Mainland China must of course have a Chinese visa while those coming from Nepal will need a Tibet group visa. A licensed Tibet travel agency will take care of the paperwork for the travel permit and group visa.
While Lhasa and the surrounding area is hospitable year around, the best time to visit is mid-April to June and September to early October. However travelers should note that this varies by region. TCTS is always happy to provide details.
The quickest and easiest way to arrive or depart is by air from Kathmandu or Mainland China. For those with extra time, the train or overland routes provide excellent views of remote Tibetan scenery. Within Tibet foreign tourists are not allowed to use public buses outside of Lhasa, being with an organized group is necessary.
Most who visit Tibet will at some point feel the effects of the altitude. Usually this is nothing more than a mild headache, shortness of breath, or fatigue however group members should alert their guide if these symptoms become severe. Stay well hydrated before and after arrival and avoid intense physical activity for the first few days.
Successful travelers keep these things in mind while planning their adventure. Tour operators such as TCTS will take care of necessary travel permits, provide advice on when to come and how to get there and provide tips for avoiding altitude sickness once the tour begins. Taking a tour of Tibet is a special experience, make sure to arrive prepared so the memories last a lifetime!