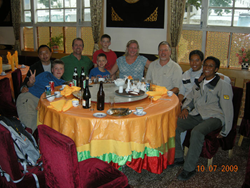 Travel Tibet with local agency www.tibetCtrip.com!
Lhasa, Tibet (PRWEB) March 21, 2015
Now that spring in Tibet is right around the corner how to obtain a Tibet visa is one of travelers' most frequently asked questions. Also known as a Tibet travel permit, this document is required for all foreigners entering Tibet. Additional permits may also be necessary depending on travelers' tour destinations. Tibet Ctrip Travel Service-TCTS (http://www.tibetctrip.com) discusses what travelers need to know about getting a permit.

No later than 10 days before arriving in Tibet all group members need to email TCTS copies of their passport and Chinese visas. Also, they will need to supply personal information such as their occupation; some individuals may require special permission to enter Tibet. Should this be required TCTS will assist travelers at the time of booking.
Travelers arriving from Mainland China will need the original permit to board a plane and a copy if taking the train. Travelers will need to supply TCTS with an address in China, such as a hotel, for the Tibet visas to be sent. Permits cannot be mailed internationally. The groups' guide will meet travelers coming from Nepal at the airport or border crossing with the permit.
Travel regulations can change at any time with little to no advanced notice; this is beyond the control of any travel agency. TCTS will do everything possible to re-accommodate affected travelers.
Making sure entry to Tibet goes smoothly is relatively straightforward for travelers. Just be sure to submit the correct documents and ensure that all information provided matches what's on these documents exactly. Should any Tibet travel permit regulations change TCTS will inform travelers as soon as possible and keep them up to date. The 2015 travel season is coming up quickly, make sure those passports are ready!
Learn more about TCTS Tibet travel agency http://www.tibetctrip.com!