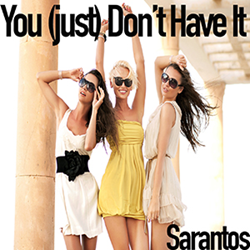 Sometimes, there are nice guys in the world who aren't bewitched by sexy, hot rich girls who just aren't nice on the inside! They do exist.
Park Ridge, IL (PRWEB) October 06, 2015
Sarantos Releases A New Pop Top 40 Song " You (just) Don't Have It" Pointing Out That Men Do Sometimes Care About What's On The Inside.
Dating can be such a cruel game. While everyone denies that physical appearance has anything to do with how much they "want" someone else, the sad truth is that it usually does matter. As a teen, young adult or mature adult, dating can be a formidable challenge. Sometimes, though, there are people who do actually care more about what's on the inside vs. what's exposed on the outside. This theme befittingly takes center stage in October when Halloween masks are sure to be seen everywhere as people get the opportunity to be someone else for one night of the year. And it sure is fun to pretend to be someone else sometimes, is it not?
This latest pop song is very playful by nature. No matter how much that perfect stuck-up rich girl wants Sarantos, she just doesn't have what he really wants. Well, what exactly is that fans ask?? The song goes on to describe exactly what it is Sarantos seeks - a humble human, playful, not lazy, sweet and nice, with passionate eyes... Money and looks aren't something that Sarantos desires. In the end, they literally do not matter!
"This is a fun top 40 pop song about women who are used to getting what they always want" says Sarantos. "Theses women are popular, famous and rich. But for him, they just don't have it. They don't have that one thing that he needs. I think this song strikes at the heart of the bone fide paradox that physical appearance plays in all of our daily decisions, perceptions and motivations. Studies show that attractive people are perceived as smarter, that rich people are seen as more attractive, but what does it all really mean? Who genuinely cares anyway? I'm here to warn you that generalizations like this can lead people to blindly rationalizing preconceived stereotypes while furthering a self-fuflilling prophecy. Oh and by the way, sometimes, there are nice guys in the world who aren't bewitched by sexy, hot rich girls who just aren't nice on the inside! They do exist."
Sarantos recently started using a new social media platform & has many exclusives coming soon:
http://www.empowr.com/sarantosmelogia
Sarantos won the Akademia LA Music Awards in 2015 for Best Song (What If I Never See You Again), Best Rock Song (Easy To Believe), Best Rock Music Video (We Accept The Love We Think We Deserve), Best Singer/Songwriter Song (A Mission Of Heart, I Sing), Best Pop Song (I Sing) & Best Pop Rock Album (Not Where I Wanna Be).
Sarantos has won twelve Beat 100 song & music video awards in 2015 and 2014. Sarantos was nominated for the International Music & Entertainments Awards in 2015 for "Rock Song of the Year" and in 2014 for "Rock Song of the Year" and "Pop Album of the Year." In 2014, he was also nominated for the Hollywood Songwriting Awards for Best Unsigned Song (Are You Sure You Can Last).
Even without a label or radio promoters, Sarantos song "What If I Never See You Again" has been in the top 200 on the majors list in the US for radio airplay according to the Digital Radio Tracker Top 200 charts. On the independent charts, Sarantos is still in the top 10. He's been on both these lists since early April.
33% of any music-related sales profits from this song are going straight to Girl Effect.
Girl Effect works to break the cycle of intergenerational poverty. They do this by connecting girls to each other and to the critical assets they need. They work to create lasting perception change by harnessing media in innovative ways and building social networks to develop girls' positive perceptions of themselves and shift how others see and value them.
*Because Sarantos wants his music shared throughout the world, fans can always find all of his songs, lyric sheets, videos and books on his website for free. He openly gives everyone the right to share his song mp3s for free with anyone they want via email or any of the social media platforms.
**Fans can sign up for his free email list to get the inside scoop first and exclusive content available nowhere else.
Sarantos' iTunes & Apple Connect:
http://bit.ly/SarantosAppleStore