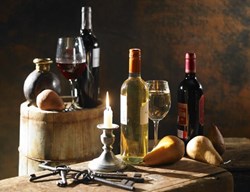 Sumptuous gift collections of the best Spanish wines
Williamsburg, VA (PRWEB) November 25, 2013
La Tienda proudly showcases new wine collections featuring small family vintners. Each winery has been carefully selected to be represented in these exclusive collections. Emphasis is placed on quality, sustainability and most importantly, taste.
"Each of these wines has a story to tell and that excites us. Whether it be grapes harvested by moonlight in the land of Don Quixote, vintners setting up shop in an abandoned convent in Madrid or vines growing neath the cool mists of Galicia, our goal is to offer a one-stop tour of a variety of regions and vintages to highlight any celebration," noted President and Creative Director, Jonathan Harris.
Each collection is accompanied by detailed tasting notes including recommended Spanish food pairings and a complimentary scallop shell wine stopper, emblematic of La Tienda's Peregrino logo.
With the widespread availability of wines online, La Tienda decided to re-imagine the wine category. "The premise upon which we founded the company was to support small family producers across all of Spain. We are proud that our new Spanish Wine Collections are characterized by the same commitment to quality and taste as our food and gift offerings, " added Harris.
Explore La Tienda's exclusive Spanish Wine Collections including: The Discover Spain Wine Collection, The Celebration Wine Collection, The VIP Premium Wine Collection, The Everyday Favorites Wine Collection and The Tasty Reds Wine Collection.