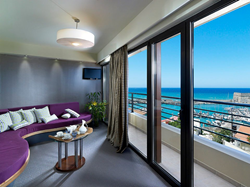 Everything we do is designed with guest satisfaction in mind, and we are happy to be considered among the best boutique hotels in hour country.
Heraklion, Greece (PRWEB UK) 16 April 2014
Lato Boutique Hotel ranks among 8 superb properties in Greece nominated to receive this year's Greece Leading Boutique Hotel award by World Travel Awards, the "Oscars of the travel industry." Between April 14 and June 23, 2014, travel professionals and consumers will cast their votes, selecting the best of the candidates, to be celebrated at the Europe Gala Ceremony on August 2, 2014, at the Divani Apollon Palace & Thalasso in Athens.
Lato Boutique Hotel holds the Greece Leading Boutique Hotel title for 2004, 2005, and 2008, being the most awarded hotel in the country, in its category, to date.
"We are honored to be nominated for this valuable industry award," said owner and CEO Lefteris Karatarakis. "It says a lot about our efforts, and our commitment to our guests. We are fully prepared for the 2014 season, after a major refurbishment and expansion phase at the beginning of 2013, then a major series of changes designed to save energy and natural resources, at the end of the same year. Everything we do is designed with guest satisfaction in mind, and we are happy to be considered among the best boutique hotels in hour country."
In 2013, Lato Boutique Hotel received a Certificate of Excellence from TripAdvisor, a Venere guest satisfaction award, and several local awards, attesting its value for guests, but also for its staff. Lato Boutique Hotel is an ISO 14001 certified business, committed to offering the best hospitality environment for visitors and employees.
Standing for more than 35 years above Heraklion's Venetian Fortress, the hotel operates 365 days a year, without interruption. Famous for authentic Cretan hospitality, Lato Boutique Hotel is the most welcoming establishment in this part of the city, a magnet for romantic couples, but also for families, and business travelers. Lato is the perfect starting point to explore Crete and its fascinating capital. Acclaimed for facilities and amenities, the hotel is also renowned for its restaurants, Brillant & Herbs Garden, which offer contemporary Cretan cuisine and live entertainment weekly.
About Lato Boutique Hotel:
Winner of three Greece Leading Boutique Hotel awards, Lato Boutique Hotel (http://www.lato.gr) is one of the iconic hospitality businesses in Heraklion. Ideally located directly opposite the old port, the hotel boasts breathtaking views of Rocca al Mare, the Venetian Fortress. With a tradition of over 35 years, the hotel was fully renovated in 2012-2013, to satisfy all traveler exigencies and budgets. Guests will also enjoy a small wellness center with hammam, jacuzzi and mini gym. Other facilities and guest benefits include free Wifi, and specially equipped rooms for events and business meetings. Lato is also home to award-winning Brillant and Herb's Garden restaurants, both favorite with locals and tourists for authentic Cretan cuisine, and unsurpassed hospitality. For feedback and information, follow Lato on Twitter, Facebook and Google+. Booking directly at http://www.lato.gr gives guests the lowest prices, guaranteed.