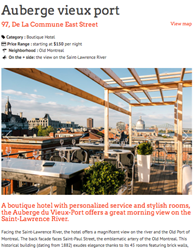 "Our approach aims to offer quality editorial content on hotels in Montreal. You won't find all the hotels of the city but only those that charmed us, that intrigued us, and that we carefully selected for you."
Montreal, Canada (PRWEB) October 20, 2014
In between a blog and a tourist guide, Hotel-in-Montreal.com offers critical reviews of hotels in Montreal to help travelers find the right hotel!
Everyone has their own criteria when it comes to finding the perfect hotel room. Whether it's for a sleep over or a longer stay, for vacations or a business trip, to sleep in the heart of the historical district or in the heart of the action, to feel at home or to enjoy the best breakfast in town… each person has their preferences.
The Internet is loaded with all kinds of more or less interesting information, making it difficult to sort the good from the bad. Hotel-in-Montreal.com has synthetized facts on this topic, that being hotels in Montreal.
"Helping travelers find the right hotel in Montreal" is the mission of the site.
High Quality Content
As opposed to the sites that promise to find the best deals or those compiling web surfers' opinions, Hotel-in-Montreal.com features the comments of an expert on the matter. The expert is a French journalist who also happens to be a seasoned traveller who fell under the charm of his new hometown: the Quebec metropolis.
Each hotel review is formatted as a report. In addition to the critical stance of the journalist, a series of useful information is avalaible: pictures, rates, location, a "on the + side" section, maps, and metro access details…Each hotel has been visited and tested, thus travellers have all the right information to choose "the right hotel" and avoid being surprised or disappointed.
Media Contact: Lucas Rivoire, Founder – lucas(at)hotel-in-montral(dot)com - 514 815-0035