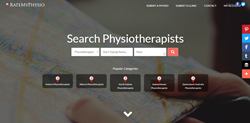 We want to bridge the gap between patient care and access
(PRWEB) July 19, 2016
It is easy to find online reviews for doctors, dentists, surgeons, professors or even employers. But when it comes to physiotherapists, there isn't much out there, despite the huge demand. Now, thanks to the makers of http://www.ratemyphysiotherapist.com users can research and review physiotherapists in their area quickly and easily, creating a simple-to-navigate database for current and future clients. Considering more people are looking for a physiotherapist in their area, the new site truly fulfills the demand for physiotherapy reviews.
"My partner and I noticed that a lot of people had a hard time locating a good physiotherapist in their area. However, there simply isn't enough resources out there for those looking for patient care to make an informed decision," says founder and owner of the site, Utsav Sarkar, a Toronto-based Internet entrepreneur. "With our new site, users can not only locate a physician, but they can also provide feedback on the level of care they receive."
Rate My Physiotherapist is perfect for prospective patients who are actively looking for a physiotherapist. The site currently hosts more than a million listings of physiotherapists and clinics all over the world which can be sorted based on the patient's location. Users can also submit a listing if the physician is not already on the site. Submitted listings go through a validation process before being approved and published.
The site allows physiotherapists or clinics to "claim" their own listing and identify themselves as the owner. Once approved, they have more control over the content of their own listing.
The site was designed with a great focus on usability and it is very mobile-friendly. Users can expect to see more changes in the near future aimed to make the site more intuitive, user-friendly and visually appealing. The team behind the site is constantly adding new profiles of physiotherapists and clinics all over the world.
"We are looking to develop similar websites for other licensed professions," says Sarkar. "Sites like http://www.ratemyphysiotherapist.com are an important resource for those struggling to access the physician to best fit their needs. We want to bridge the gap between patient care and access."
Visit Rate My Physiotherapist to read reviews for physiotherapists in your area or to submit feedback for a physiotherapist. User feedback will help several others who are looking for a good physiotherapist in their area.