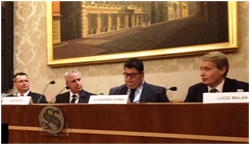 A leader's responsibility is to be one working model of a life well lived.
(PRWEB) November 14, 2014
On Friday, October 3, 2014, authors and leadership experts Chris Brady and Orrin Woodward visited the Italian Senate in Rome to hold a press conference entitled "Launching a Leadership Revolution." The event, moderated by author Alessandro Iovino, covered topics of great interest to those who hold positions of responsibility in this highly important and symbolic leadership institution. Also speaking at the event were Senator Lucio Malan, Governor of the Italian Senate, and Dr. Gaetano Sottile, President of Italy for Christ. Other participants included lawyers, politicians, journalists, business owners, and more.
Brady and Woodward's 'New York Times' bestselling book 'Launching a Leadership Revolution,' the basis for material discussed in the conference, teaches about the "art" (presuppositions/thought processes/mindsets) and "science" (actions and strategies) of leadership, explaining the philosophy of the authors about what true leadership is and how people can improve their leadership effectiveness. With the belief that leadership is not a privilege exclusive to a few elites but rather a quality anyone and everyone can adopt to improve both themselves and the society in which they live, the authors maintain that the question all individuals must ask themselves is not whether they will ever be called upon to lead but whether they will be ready to do so when they are.
It is this unique philosophy Brady and Woodward have toward leadership that lovino stressed during the event with the Italian Senate. And Sottile reaffirmed this idea, saying that in his experience of training young leaders in Italy and abroad, he has discovered that the essential quality for both one's personal and professional life is to develop real leadership that can affect those around oneself.
When asked about the relationship between faith and leadership, Brady and Woodward both shared their own experiences and their belief that 100 percent successful leadership cannot exist without a personal relationship with Jesus. And Sottile discussed the importance of a true conversion to the gospel of Jesus when it comes to successfully leading a nation.
After their conference in the Italian Senate, the two American authors traveled to Naples to speak at another event hosted by Gospel Napoli entitled "Becoming a Successful Leader." Held in the city of Melito, the conference was opened by Pastor Marco Palma and Mayor Angelo Liccardo. Sottile again joined Brady and Woodward and pointed out that true leadership is founded in a deep and genuine Christian experience. The speakers all urged the many young people in attendance to be actors rather than spectators in the launch of a real revolution in leadership because as Woodward says, "The difference between success and failure isn't ability as much as action."
Brady says, "A leader's responsibility is to be one working model of a life well lived." Just like Brady and Woodward, the members of the Italian institutions who invited the authors to speak at these leadership conferences say they aim to be those living examples for future leaders. And the members of Italy for Christ say they hope to enhance their ongoing efforts to influence the leaders of Italy toward a deep, fruitful relationship with Christ and greater effectiveness in their leadership roles by training and developing emerging leaders in their country using the training system that Brady and Woodward have developed through their organization LIFE Leadership.
During their visit to Italy, Brady and Woodward also did a 'Launching a Leadership Revolution' presentation for rotary members in Ragusa Ilba. Rotary president Mario Schinninà organized the dinner speaking event, which was held at the Convent of Cappuccini. The members say they enjoyed the presentation so much that they are planning on hosting several more such events in 2015.
About Orrin Woodward:
Orrin Woodward is an internationally celebrated 'New York Times' bestselling author with over a million books sold and a recognized leader in team leadership, success coaching, and executive management training. He is a cofounder and Chairman of the Board of LIFE Leadership and Obstaclés Press as well as a cofounder and President of the philanthropic foundation All Grace Outreach. Orrin is #20 on 'Inc.' magazine's Top 50 Leadership and Management Experts list. His blog (orrinwoodwardblog.com) has received numerous awards, including being selected as one of HR's Top 100 Blogs for Management and Leadership and as a Universities Online Top 100 Leadership Blog. Orrin is also the recipient of a National Technical Benchmarking Award and holds four US patents.
About Chris Brady:
Chris Brady is a 'New York Times' bestselling author who has sold over a million books on leadership and success and has been named one of the Top 100 Authors to Follow on Twitter (@RascalTweets). Chris is a cofounder and CEO/Creative Director of LIFE Leadership, a cofounder and Executive Publisher of Obstaclés Press, and a cofounder and Vice President of the charitable organization All Grace Outreach. He regularly speaks to large crowds around the world on the principles of personal and professional development. Chris is #39 on 'Inc.' magazine's Top 50 Leadership and Management Experts list. His blog (chrisbrady.typepad.com) has received multiple awards. And in 2010, Chris was awarded the Kettering/GMI Alumni Association Entrepreneurial Achievement Award.