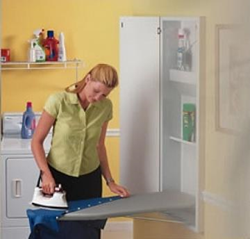 The two biggest elements of increasing the comfort of a laundry room are actually two of the most difficult to address: location and ambiance.
(PRWEB) August 06, 2013
HomeThangs.com – the Online Home Improvement Store has made their goal to deliver the right product to the consumer. With that in mind, shopping and home design tips, as well as special product selections are being introduced.
Laundry is one of those little inevitabilities of life – it piles up fast, can seem to take forever to finish, and there's always another load to do. Keeping a family clean and clothed takes a lot of time, which is why it's tragic that most laundry rooms end up in unpleasant, unfinished spaces like the basement. For an area that's so regularly trafficked, there's no reason not to make it more pleasant to use. HomeThangs.com has released a guide to six ways, big and small, to do so.
One of the easiest ways to totally change the ambiance of a laundry room is to replace the sink. Now, utility sinks are fine – they're an inexpensive way to add a usable sink basin to a semi-unfinished space like a basement laundry room – but they don't do anything for style. A fireclay or cast iron sink, which has a slightly more finished appearance, can add a little cottage style flair to the space.
Installing a built in hamper is a great way to keep dirty clothes out of the way while also leaving the counter space free for folding clean clothes. Installing a built-in ironing board cabinet not only provides a little extra storage, it eliminates the need for a big, unsightly ironing board. These tuck away in a drawer or fold out from a cabinet (like a murphy bed) for easy use while staying totally out of the way and invisible when not in use.
Making room for folding is one of the biggest practical upgrades. This can come in the form of counters – which, combined with cabinets, offer more storage space – or islands or tables designed at a comfortable height to be used while standing. Which one will work best for a particular laundry room will depend on budget, the size of the space, and how the space is used, but simply having a single, organized place to manage laundry from start to finish can really take some of the pain out of the process.
It's also smart to make provisions for hanging clothes as well as folding them. This means installing at least one sturdy closet bar either directly over the washer and dryer or near a flat work surface. Having additional racks can also be nice for delicates that need to be line or air dried, and can eliminate the need for a clunky drying rack. Be aware, though, line drying clothes indoors can increase the humidity in the room, and might require a dehumidifier or even a drain in the flooring to help regulate the moisture.
Finishing a basement or altering any area of the home to improve a laundry space can be expensive. But while it might sound strange, a washer and drier (or a more compact washer/drier combo) can actually be a smart addition to a large scale kitchen remodel. Moving the laundry room into the kitchen will combine and reduce the budget of two projects by making them one, an having a washer and drier in such a central location can make it much easier to do the wash while doing other things. A clean kitchen island can even do double duty as a folding station.
The two biggest elements in increasing the comfort of a laundry room are actually two of the most difficult to address: location and ambiance. Relocating or totally finishing a laundry space in an unfinished basement, for example, isn't cheap. But even if a big change isn't in the budget, that doesn't mean it's not a project worth undertaking. Installing beadboard walls and a better lighting fixture is an inexpensive way to immediately perk up the space, while allowing for more improvements when the budget allows.
To see some of these ideas in action, read the full article here.
HomeThangs.com is not only a home improvement superstore, it also provides expert design tips and a comprehensive shopping guide, taking the ideas from professional interior designers, and offering tips to the consumers on how to pick the products to best suit their needs.