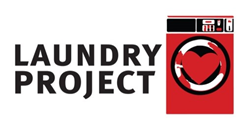 Sowell estimates volunteers will tackle at least 700 loads of laundry during the three simultaneous events.
Atlanta (PRWEB) April 09, 2015
According to the U.S. Census Bureau, one in four Atlanta residents were living in poverty between 2009 and 2013. With the average cost of eight loads of laundry nearing $25, many families are forced to choose between paying bills and washing their clothes. To ease this expense, the Laundry Project has partnered with the Coin Laundry Association's LaundryCares Foundation to bring complimentary laundry services to three of Atlanta's neighborhoods simultaneously.
On Wednesday, April 15, from 2 to 5 p.m., Sun Cleaners (3050 Martin Luther King Jr. Dr. NW) and two Tropical Breeze Laundry locations (3734 Martin Luther King Jr. Dr. SW and 1229 Moreland Ave. SE) will transform into 'Community Centers for Hope' by providing free laundry services to lower-income residents and families. Members of the media are encouraged to attend the Moreland Avenue Tropical Breeze Laundry location to speak with community members and see how truly impactful this project is to residents.
"It is our passion to truly make a difference in the lives of those who are struggling and in need encouragement and support," said Jason Sowell, founder of Current of Tampa Bay and its initiative, the Laundry Project. "Our partnership with the LaundryCares Foundation, as well as the support received from volunteers and our sponsors, will help make this first set of Atlanta projects a major success."
Three organizations are sponsoring the events including Vend-Rite Manufacturing, which is contributing all the detergent, bleach and softener needed at each site, Spector Textile is donating the laundry bags for residents to easily carry their clean laundry and Action Limousines is providing transportation for event volunteers traveling to and from each location.
To date, the Laundry Project has washed 43,400 loads of laundry for 4,800 families during 192 projects nationwide. Sowell estimates his 30 volunteers will tackle at least 700 loads of clothes, towels and linens for Atlanta residents and believes citizens will walk away from the event, not only with newfound confidence, but feeling clean and loved by both the organizations involved as well as their hometown neighbors.
About Current of Tampa Bay, Inc.
Current of Tampa Bay, Inc. is a 501(c)(3) not-for-profit organization incorporated in Florida that started with young adults committed to educating others on current social initiatives and mobilizing them to bring about change. Current establishes community groups for awareness and education and organizes local initiatives such as the Laundry Project, Hope For Homes Project and Affordable Christmas. To learn more about Current of Tampa Bay, visit http://www.engagethecurrent.org, or see to photos of past Laundry Projects, visit us at http://www.laundrybycurrent.org.
For more information, contact Jason Sowell, executive director and president of Current of Tampa Bay, Inc. 727.537.9082 or Jason(at)EngageTheCurrent(dot)org. For Media Use Only: Please contact Shelby Lopez of Vistra Communications or ShelbyL(at)ConsultVistra(dot)com.
###