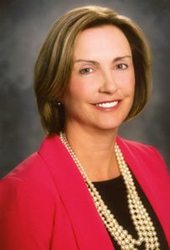 Laura Hill is a natural female leader to nominate for SafeHaven's Legacy of Women Award. She is a leader I wish to emulate. Every experience with her is an inspiration and learning opportunity
Southlake, Texas (PRWEB) September 08, 2014
Laura Hill, co-owner of Downey Publishing and member of Southlake City Council, has been named a 2014 Legacy of Women honoree by SafeHaven of Tarrant County. The 22nd Annual Legacy of Women Awards Luncheon, which benefits SafeHaven's domestic violence prevention and intervention programs, will take place September 26 at the Omni Fort Worth Hotel.
Hill, who is being honored in the volunteerism category for Northeast Tarrant County, is among 15 honorees this year in the categories of arts, business, education, health and human services, and volunteerism representing Arlington, Fort Worth and Northeast Tarrant County. All nominees are judged on the following criteria: commitment, achievements, initiative, impact and additional contributions. A panel of SafeHaven's professional staff and previous honorees make the selections.
According to Traci Bernard, president of Texas Health Harris Methodist Hospital Southlake, she nominated Hill for her demonstrated leadership ability, business acumen and community involvement.
"Laura Hill is a natural female leader to nominate for SafeHaven's Legacy of Women Award. She is a leader I wish to emulate. Every experience with her is an inspiration and learning opportunity," said Bernard, noting she and Hill have worked together on many community events including the inaugural Staying Alive Southlake health fair and CPR training event held February 15.
In addition to being a long time member of the Southlake City Council and serving on the board of directors for the Southlake Chamber of Commerce, Hill was nominated for her contributions to numerous community organizations, most notably Scholars and Athletes Serving Others (SASO) and Students and Parents Against Risks to Kids (SPARK), both of which she founded out of a need to help families raise healthy children in today's world. Currently, there are 600 members in SASO and more than 2,000 in SPARK.
A letter of support submitted by Eric Niedermayer, CEO of the Recovery Resource Council of Tarrant County, of which Hill served on the board of directors during 2009-14, is a testament to her philanthropic dedication: "Laura's volunteer efforts with SPARK and Recovery Resource Council have helped families find answers for risk issues like suicidal thoughts and has reduced drug and alcohol abuse in our community. She knows that by providing education, resources and giving our youth the tools to make healthy choices, lives can be changed forever."
As a volunteer in Tarrant County for more than 15 years, Hill's efforts include hosting numerous educational events for parents and students, organizing community service projects, and strengthening partnerships between the city, school districts and citizens.
"Most great volunteers have a can-do attitude and understand that the best way to get things done is by partnering with others. Laura has had long-term success with both SASO and SPARK because she was able to bring together existing groups that had the same goal ̶ healthy children," added Bernard.
For more information about the Legacy of Women Awards Luncheon, visit http://www.safehaventc.org/2014-legacy-of-women-honorees/.