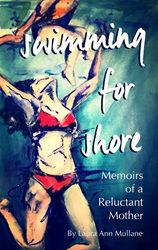 I wrote this book because I felt like no one was really honest about how hard it was to be a mom.
Los Alamos, NM (PRWEB) July 15, 2014
What if being a mother isn't all its cracked up to be? In Swimming for Shore: Memoirs of a Reluctant Mother, Pulitzer Prize-nominated author Laura Ann Mullane gives an unflinchingly honest account of her decision to have children in spite of her many doubts and the struggle to come to terms with her new role as Mom after her son and daughter are born.
At turns both laugh-out-loud funny and gut-wrenching, she explores everything from the high-pressure Perfect Mothers' Club of the Washington, D.C., suburbs to the guilt and shame that plagued her as she navigated her children's tantrums and the constant demands of motherhood.
"I wrote this book because I felt like no one was really honest about how hard it was to be a mom," said Mullane. "My life changed so dramatically when my son was born—I lost so many things that I loved: spending time with my husband, going for long hikes in the mountains, riding and competing my horses. I missed it all terribly. But everyone kept telling me that being a mom was the most rewarding thing I would ever do—and all I could think was, 'Really? It sure doesn't seem like it.'"
So Mullane wrote a book about her decision to become a mom and the first three years of her children's lives in an effort to start an honest conversation about the challenges and very real doubts many mothers face, yet few feel they can say aloud for fear of being labeled a "Bad Mom."
Mullane is co-author of God Sleeps in Rwanda: A Journey of Transformation (Atria/Simon & Schuster, 2009), which was nominated for the Pulitzer Prize and National Book Award. Her work has appeared in the Washington Post, the Washington Post Magazine, Hemispheres and Open Skies, among others. She spent the first eight years of her children's lives in the Washington, D.C. suburbs. Today, she lives in northern New Mexico with her husband, two children, two horses, two dogs and two cats.
The self-published book is available on Amazon in paperback ($9.99) and Kindle ($4.99). Watch the book trailer here. Mullane is available for interviews; copies of the book are available for review.
Book Excerpts:

On questioning becoming a mother: This was the reality that was hitting me square in the face: my other job—being a mom, which occupied the other eighteen hours of the day—I didn't enjoy. I just didn't. If I ever saw the job description for "mom" listed in the newspaper, I would never apply. I loved my kids but the actual work of being a mom I found tedious on the best days. On the worst, I found it soul-crushing. I thought back to all the jobs I'd had in my life that I hated: file clerk, receptionist, restaurant hostess. And yet I would gladly trade the work of motherhood for any of those. At least in those jobs I'd had some semblance of independence and self-direction. And at the end of the day, I could look at what I'd accomplished—even if it was moving a pile of file folders into drawers—and feel a sense of pride that I'd done it. And others around me appreciated my efforts and thanked me. As a mother, I got none of that. Sure, Dave appreciated what I did and was grateful for it, but the kids couldn't care less. And there were no clear checklists. Raising children is a process, not an event. It's not like I would go to bed at night and say: "Well, today I was able to teach my children good manners and how make small-talk at a cocktail party." Progress was measured in millimeters, not miles. It was exhausting.
On competitive parenting and not fitting in: Once, a child psychologist spoke at the preschool and advised parents not to let their children watch the same videos over and over again, because preschool-age children have a tendency to become obsessive and can get "trapped" in the story. Upon hearing this, a mother raised her hand and asked, "What about reading the same book over and over again? My son, who's only four, has Winnie the Pooh memorized. The entire book." And then, in case we didn't realize what a genius her son was, she added: "It's a one hundred and sixty-page book. Is that a problem?"
…But even if the parents didn't feel the need to use these moments as a forum for the Parenting Olympics, the meetings were just a painful reminder to me that I didn't fit in. I couldn't say exactly why, but there was a clubbiness to the school that made me feel like I was on the outside looking in.

On pregnancy: Looking for ideas on how to alter my clothes to fit (I wasn't ready for maternity clothes just yet), I turned to What to Expect When You're Expecting, the bible of pregnancy books, where it suggested I wear some of my husband's clothes during those awkward early months. "A pregnant woman's best friend can be her spouse's closet," it wisely intoned. I laughed. I'm five-foot-nine, the exact same height as my husband, and even before I was pregnant I outweighed him by at least five pounds. I could barely squeeze my ass into his jeans before this supersized bun in the oven started baking, much less now.
For media inquiries please contact Kathy Silverstein at Kathleen(at)onthemarcmedia(dot)com or call 410-963-2345