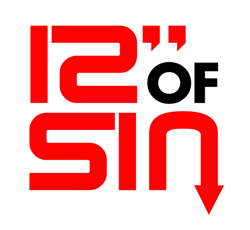 Today's artists aspire to satiate the most ardent art critic with refreshing vigor.
Las Vegas, Nevada (PRWEB) March 20, 2015
Author, curator and gallerist, Dr. Laura Henkel has ignited enthusiasm for an innovative Kickstarter campaign to support the printing of a four-volume book series, 12 Inches of Sin, featuring 126 daring artists from 16 countries, as well as text by art critics and prominent figures in the world of contemporary art.
Art aficionados and bibliophiles are hot to acquire the books through Kickstarter. $13,000 of the $25,000 desired goal has been reached within two weeks of the crowdfunding launch. The equally smart and playful pledge rewards have certainly garnered respect and support.
So what is 12 Inches of Sin and why Kickstarter?
12 Inches of Sin features sophisticated, intelligent, witty and provocative works of art from around the world. The juried exhibition explores contemporary art, with one twist: every piece submitted for consideration must be no larger than one foot square. This constriction of the art's physical space creates a tension within the art itself, expanding the challenge inherent in each piece's creation. This tininess is also a clever nod to the secretive status of provocative art, and functions beautifully as a metaphor for the keyhole voyeur. 12 Inches of Sin has become the largest international juried art exhibition in Southern Nevada.
Henkel says: "Imagine a glossy, color illustrated collection of contemporary art to view at one's leisure, a treasure trove of sexiness and gorgeousness. Art inspired by Mel Ramos, Helmut Newton, Katsushika Hokusai, Marcel Duchamp, David LaChapelle, Hieronymus Bosch, Jeff Koons, Gustave Courbet, Hajime Sorayama, Alberto Vargas and too many more influential artists to name, today's artists aspire to satiate the most ardent art critic with refreshing vigor. Kickstarter provides the platform to find financial support to print the books to provide to retailers. Orders are in place, but there are no products to give. Supporting this Kickstarter campaign supports the next wave of talented artists by promoting them to the world through 12 Inches of Sin."
The Kickstarter campaign ends March 31, 2015. Be a patron of the most delectable art around. Take a bite and support a worthy a project. There is something for everyone to enjoy.