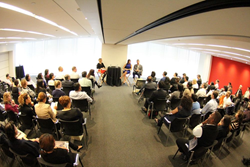 'In working with women in the U.S. and Latin America, I see empowerment as the key element that has pollinated across this group. I believe now is a great time to be a woman.'- Laura Posada
New York, NY (PRWEB) September 28, 2014
Launching her inspirational U.S. and Latin America "Laura Posada on Tour" at The New York Times headquarters on Thursday, September 25, she introduced her #Clap4Change movement. Accompanied for a panel discussion by Posada's superstar husband, New York Yankees legend Jorge Posada, their talk highlighted her movement of hope and empowerment for Hispanic America.
"Take a moment and stop to clap for yourself and what you've accomplished," said Posada, referring to "Laura Posada on Tour" to inspire women to rise in all aspects of their personal lives and professional careers.
For years, Posada has worked to spread the message of integrity, empowerment, self-awareness and better living to Latinas and women across the spectrum as an author, motivational speaker, master life coach, fitness expert and through her philanthropic work. With the U.S. Latino population projected to be more than 132 million by 2050, Posada is the next big influencer to tap into this fast-growing group, especially among the "millennials" ages 22-35.
During her talk at the Times, Posada touched on what she calls a "Mental Diet" - a technique to clear our heads of the clutter, doubts and low self-esteem many face on a daily basis. When we choose to focus on uplifting and constructive thoughts, she says, we lift ourselves up in all we do.
"Self talk - what we put into our minds - is going to carry us through the good and bad times," Posada said.
This dynamic woman lives in line with the "IRAC" method that she learned in law school: issue, rules, apply, conclusion. With that model she was able to structure her life and use it for crucial personal moments when she needed to focus and make the best decision.
Many know Posada as a baseball wife, but for many years she has been carving out her own identity and mission by focusing on issues to uplift women and families. Some have called her a modern day "Superwoman," co-producing and hosting two seasons of "Manual de Supervivencia con Laura Posada" (Survival Guide with Laura Posada), which currently airs on the Fox Life Network. She also makes regular appearances on The Today Show. She has appeared on The Wendy Williams Show and more to get her message out.
Her tour, called "Laura Posada on Tour" - now has a branding management team that will visit select U.S. cities and countries throughout Latin America, including Peru and Panama - and highlights the freshness and powerful leader that Posada is hoping to bring to the world.
"In working with women in the U.S. and Latin America, I see empowerment as the key element that has pollinated across this group," said Posada during her panel discussion. "I believe now is a great time to be a woman."
To follow the #Clap4Change movement and "Laura Posada on Tour," check these links:
Connect with Laura Posada and join #Clap4Change movement!
On the web: http://www.lauraposada.com
Twitter: @Dlauraposada
Facebook: http://www.facebook.com/thelauraposada
Instagram: @lauraposada2014
Hashtag: #Clap4Change