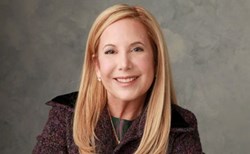 Human Resource professionals and their departments assume a new role magnified by current issues posed by cyber threats, privacy and corporate security risks and increasing considerations of governance and compliance
Fort Lauderdale, FL (PRWEB) September 01, 2013
The National Human Resources Association (NHRA) South Florida affiliate is proud and honored, to have Laurel Bellows as keynote of their upcoming event September 10, 2013. Bellows will be sharing insights gathered from Hillary Clinton's speech at the American Bar Associations' (ABA) Annual Meeting held in San Francisco in August on equality, and elements from her own speeches. She will integrate how HR professionals at all levels need to know the importance of stopping international human trafficking; what their part is in stopping it, and why it effects human rights in the United States, whether a company is represented internationally or not. Bellows will also discuss why cyber security is the responsibility of HR professionals too, not just the work of Information Technology departments and homeland security.
"Human Resource professionals and their departments assume a new role magnified by current issues posed by cyber threats, privacy and corporate security risks and increasing considerations of governance and compliance. HR must be integrated with corporate security officers, share responsibility to address risks with CIOs and CTOs, and protect the company's intellectual property, confidential customer information while keeping the company's greatest asset, its people front and center. On the positive side, HR holds the keys to effective corporate participation in the fight to eradicate human trafficking in the United States," says Laurel Bellows, Principal of Bellows Law Group, P.C., the ABA's immediate past president. She will be going into detail on critical strategies to put in place for HR professionals to combat modern day slavery, and how to build a cyber security plan and its implications for crisis management.
"We are greatly anticipating Laurel Bellows' keynote, as part of what she will be teaching senior level and C-suite executives is how to create a stronger voice within companies, by speaking to the corporate value system and responsibility that directly effects the bottom line," said Diana Palumbo, president of NHRA South Florida. NHRA South Florida officials expect this meeting will bring heightened awareness of the cybersecurity impending threats organizations face, in light of the recent escalation of hacking into organization's Information Technology systems and networks globally. These threats are real and some are aimed at accessing and stealing proprietary information relating to marketing, product development, and high-level strategies in place to increase competitive advantage in their respective markets.
The meeting will be held at the Renaissance Hotel in South Florida on September 10, 2013 from 8:30am to 11am and will include breakfast. Please visit the website to register.
About National Human Resources Association
The National Human Resources Association (NHRA) established in 1951 focuses on advancing the individual career development, planning and leadership of human resource (HR) professionals. Through professional networking programs and development services offered across the country, NHRA strives to support human resource professionals throughout their career life cycle - from intern to executive - as Human Resources leads the way for change in today's businesses. For more information, please visit humanresources.org.
About National South Florida Association South Florida Affiliate
The South Florida Affiliate of the NHRA is the organization's newest affiliate, established in 2012. They are in the process of growing this affiliate and are actively seeking local HR Professionals to partner with them. As part of the National Human Resources Association they vow to provide an active forum within a supportive environment for strengthening the role of HR professionals as strategic business leaders and partners. The South Florida affiliate is working to offer strong professional development programs and provide a relevant and active forum to help members and other community Human Resources and Business leaders fulfill their strategic goals. To learn more about this this affiliate, please contact Diana Palumbo, president, at president(dot)sfl(at)humanresources(dot)org.