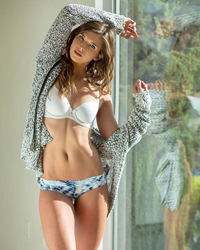 Lauren is driven to change the lives of young girls and women forever. Her journey through hell and back proves that anyone can find happiness, health and the power to be great. All you need is desire and a great mentor like Lauren. - Evan Morgenstein
New York, New York (PRWEB) July 28, 2016
Lauren Sieckmann has officially unveiled her new website, http://www.laurensieckmann.com, dedicated to helping fitness enthusiasts of all levels develop their own unique strategy for maintaining a healthy lifestyle in all aspects of life. The website features new layout designs, breath-taking visuals and access to Lauren's personal blog complete with motivational stories, tips and tricks she has learned on her own fitness journey.
"Lauren is driven to change the lives of young girls and women forever," said PMG Sports President & CEO Evan Morgenstein. "Her journey through hell and back proves that anyone can find happiness, health and the power to be great. All you need is desire and a great mentor like Lauren."
The new website also highlights Sieckmann's proven fitness & nutrition program called the Whole Body System. A subscription to the program introduces users to a nutritional lifestyle ripe with weekly meal plans, workouts and other exclusive content directly from Lauren herself. The program was built to teach subscribers how to achieve their own weight-loss goals and maintain peak physical and mental fitness on a daily basis.
"I developed my Whole Body System to help people who are struggling with wellness of the mind, body, and soul," said Sieckmann. "As someone who has personally overcome several serious physical and emotional health issues to transform my life for the better, I am inspired to help others do the same."
Lauren's own personal fitness journey continues to fuel her passion on runways all over the world, beach volleyball courts, in the gym and as a motivational fitness influencer for traditional and social media marketing campaigns. Sieckmann is committed to helping brands in the beauty, health & fitness space create a positive connection with consumers beyond simply selling product.
To discuss sponsorship opportunities and activations with Lauren Sieckmann, please contact Evan Morgenstein at evan(at)pmgsports(dot)com or call (919)459-5426. For media inquiries, please contact Matt Uberseder at matt(at)pmgsports(dot)com or call (919)459-5428.
About PMG Sports
PMG Sports is an elite sports marketing agency with the goal to create a space in the industry that is completely unique through superior creativity and innovation. PMG Sports has set out to provide each of its clients with the same level of professional representation and service. Additionally, PMG Sports is an industry leader in providing corporate consulting services and treats each client, whether an athlete or corporation, with an added personal touch. For more information, visit our website at http://www.pmgsports.com.