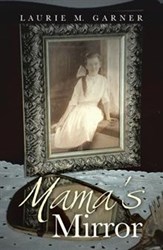 Okeechobee, Fla. (PRWEB) December 18, 2013
Author Laurie M. Garner takes inspiration from her mother's life and weaves together a dynamic story of love, loss and redemption in her debut novel, "Mama's Mirror" (published by CrossBooks).
"I have grown up hearing my mother speak about what it was like to live as a young woman during World War II," Garner explains. "Even though she was from New York, her experiences were similar to those of people I had met while living in North Carolina."
It is 1941, and a whisper of war sweeps across the United States. For 16-year-old Cora Jean, nothing else matters except for burying her mother. Now all alone in the world, Cora Jean leaves her mountain home for the first time to venture down to the lowlands in search of food and a job, with only her mother's treasured silver mirror.
Cora Jean stops by a farm she passes and meets the Watfords, a family she vaguely remembers from her past. Mrs. Watford reveals a secret about Cora Jean's family, an old feud that left bad blood between family members. Determined to mend fences, Cora Jean accepts a job with the Watfords and soon falls in love with a boy destined for the ministry. As more secrets are uncovered, Cora Jean must rely on her courage and unwavering faith as the outbreak of World War II sets an unexpected chain of events into action.
"Mama's Mirror" leaves readers with an inspirational message of hope. "God speaks to us all," Garner asserts. "He has a plan for our lives, and that no one is too far gone."
"Mama's Mirror"
By Laurie M. Garner
Hardcover | 5.5 x 8.5 min | 114 pages | ISBN 9781462733385
Softcover | 5.5 x 8.5 in | 114 pages | ISBN 9781462733361
E-Book | 114 pages | ISBN 9781462733378
Available at Amazon and Barnes & Noble
About the Author
Laurie M. Garner was born in New York and left home at 18. She met her husband, John, while attending college in Lynchburg, Va. Her husband is a pastor, and together they have served in churches in Virginia, North Carolina, New York and Florida. Throughout her years as a pastor's wife, she have served in the choir, taught Sunday school, led women's ministries and interpreted in Spanish and American Sign Language.
CrossBooks, a division of LifeWay Christian Resources of the Southern Baptist Convention, is a Christian publishing imprint committed to bringing more Christian voices into the publishing industry. Established authors, first-time authors, and authors anywhere in between can meet their goals and fulfill their vision for their books by publishing with CrossBooks. CrossBooks' innovative style of publishing blends the best of traditional and self-publishing. While our authors contribute monetarily to cover the cost of publishing, we maintain a strict moral and quality standard that every manuscript must meet for us to publish. For more information on publishing your Christian book with CrossBooks, log on to crossbooks.com or call 1-866-879-0502.