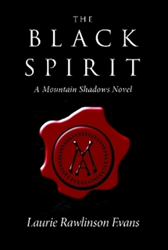 VACAVILLE, Calif. (PRWEB) August 05, 2016
High Ambassador Akira Muro shielded herself from personal connections her whole life. Due to her immense power, her own people feared her. Now, she is a dynamic warrior and diplomat on her final mission. In Laurie Rawlinson Evans' "The Black Spirit: A Mountain Shadows Novel" (published by Lulu), Akira must face the deadly Mors, also known as the Black Death, and to do so, she is willing to risk everything.
Akira's mission takes her team to the mountain pass guarded by the Protectorate of Mountain Shadows. There, she encounters the man who abandoned her for the protectorate: Kilronan. Akira has always guarded her heart as desperately as she guards the elemental forces she commands. But Kilronan threatens her self-made shields.
In order to protect her country, Akira accepts an alliance with Kilronan. Together, they will fight the dark invaders. Akira must learn to trust and fight together with a new breed of warrior. To do so, her shields will crumble. As the Black Death nears, will Akira choose duty or the emotional, human life she has always denied?
"The complexity of the relationship between Muro and Kilronan should appeal to those who like a strong romantic element," Evans says. "This story also blends martial arts style action and paranormal powers as normal attributes of this world."
"The Black Spirit"
By Laurie Rawlinson Evans
Hardcover | 6 x 9in | 650 pages | ISBN 9781483419381
Softcover | 6 x 9in | 650 pages | ISBN 9781483419404
E-Book | 650 pages | ISBN 9781483419398
Available at Amazon and Barnes & Noble
About the Author
Laurie Rawlinson Evans has always loved reading on topics from romance to theoretical physics. She entertained friends with her stories from an early age and continues to enjoy writing them. After a long career in criminalistics and forensic serology, Evans returned to her love of writing. She lives in Northern California with her husband and sons. More information is available at: http://www.theblackspirit.net.
Lulu empowers people of all ages to explore and express their interests, passions and expertise through books, photography and art. Since introducing self-publishing in 2002, Lulu has empowered creators in more than 225 countries and territories to produce nearly two million publications. Lulu Jr. allows children to become published authors, encouraging creativity, strengthening literacy and building self-esteem. Picture.com offers professional photography of collegiate and professional sports, memorable and historic events, fine art and home décor. For more information, please visit http://www.lulu.com.