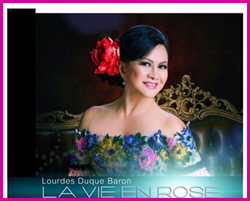 "It's a bona fide hit which demands attention for fully capturing the singer's personality …at a fascinating moment in her career." ~Carla B/EOTMBlog.com
Hollywood, CA (PRWEB) August 01, 2013
By Esteban Escobar
The Baron Publishing House Corporation announced that award-winning author, actress, producer, composer, singer, artist and businesswoman Lourdes Duque Baron has released her dance single 'La Vie En Rose Harlem Shake' worldwide online.
"La Vie En Rose Harlem Shake" by Lourdes Duque Baron was officially released by Drew Right Music on July 2, 2013 via iTunes. "La Vie En Rose" by Lourdes Duque Baron is now available for $0.99 download purchases and through major online retailers such as Amazon, CDBaby and ReverbNation.
"La Vie En Rose Harlem Shake" was produced by Multi-Platinum Record Producer Andrew Lane, who won a 2012 Billboard Award. He has worked on platinum-accredited records for High School Musical, Hannah Montana,[2] Disneymania 4, and Manny Fresh. 
Andrew Lane created a unique sound for Lourdes Duque Baron with "La Vie En Rose Harlem Shake." The song is the predicted to create a new dance craze in the United States.
As of this press release, "La Vie En Rose" by Lourdes Duque Baron has received stellar reviews by major online media sites such as EOTMBLOG.Com, Examiner.com, DiversityNewsMagazine.com, Splash Magazines (lasplash.com) and many others.
"La Vie En Rose" by Lourdes Duque Baron has started a musical BUZZ. Here's what they're saying about the song:
"It's a bonafide hit which demands attention for fully capturing the singer's personality …at a fascinating moment in her career." ~Carla B/EOTMBlog.com
"There is a really creative moment where you think the song is over, but it stops and then transposes into an even higher range. I can totally see that this is going to be a fun song not only in clubs and parties across the United States but also across the world. I can see this blasting from Rio to London to Tokyo to New York and Los Angeles without missing a beat." ~John Palisano/Diversity News Magazine
"It's refreshing to have an old standard like 'La Vie En Rose' brought to the masses in this updated production, 'La Vie En Rose: The Harlem Shake.' Lourdes Duque Baron has a lovely, melodic and flowing voice that sits perfectly over this track, and sure to become a summertime favorite for all generations." ~FFD/Esteban Escobar/Examiner.com
"Lourdes Duque Baron whimsically takes you back in time to those days of ballroom dancing and big bands. Lourdes' remix is an upbeat with a taste of smooth rap that graces the sound waves with the coolest swagger." ~Gisele Rebeiro/LA Splash Magazines
In less than a month her video trailer for La Vien En Rose by Lourdes Duque Baron have reached close to 100,000,00 views on Youtube.
Currently author Lourdes Duque Baron is working on her upcoming book title "I Called Myself Cassandra", scheduled to be released in November 2013.
You can purchase the single song via iTunes at https://itunes.apple.com/us/album/la-vie-en-rose-single/id672882104 or at other online retailers. For more information on Lourdes Duque Baron, visit her official website at http://lourdesduquebaron.com/.
About Lourdes Duque Baron:
Lourdes Duque Baron, MHA, MSG is a Catholic baby boomer and the wife of Dr. Robinson V. Baron. Lourdes Duque Baron is a community leader, international published book author of "Scripted in Heaven", beauty queen (3rd runner-up for Mrs. Asia USA 2011 representing the Philippines), producer, president of Celestial Productions and founder/president of The Baron Publishing House Corporation. On January 10, 2013 she was nominated for The Sidney Hillman Foundation Award for her book "Scriped In Heaven". On February 12, 2013 she was nominated for the 2013 EOTM Award for her published book "Scripted In Heaven" in the category of Outstanding Literary (Inspirational, True Story, Biography). On February 28, 2013 she won an award for her book "Scripted In Heaven" at MoneyCytec Achiever Awards Night 2013 in New York. Lourdes Duque Baron holds  a Bachelor of Arts in Psychology from Far Eastern University (FEU) and a dual masters degree from the University of La Verne where she earned her Master of Health Administration and Master of Science in Gerontology. Lourdes Duque Baron is a lifetime member of FEU Medical Alumni Foundation, founder of World Medical Missions and founder of the Gregg Robinson Baron Foundation for Autism. Lourdes Duque Baron lives with her husband Dr. Robinson Baron and her family in the San Gabriel Valley area of the State of California. For more information, visit her IMDB at http://www.imdb.com/name/nm5505708/ or official sites at http://lourdesduquebaron.com and http://lourdesduquebaron.net.
MEDIA CONTACTS: 
Alex Leon, Director of Marketing & PR 
Linda England, Assistant Coordinator 
World Wide Vital Marketing & Public Relations Inc. 
TELS: (818) 787-1249 or (213) 321-9408 
worldwidevitalpr.wordpress.com/ 
worldwidevitalpr(at)gmail(dot)com
Editor's Note: Author Lourdes Duque Baron is available for interview with your magazine, newspaper, website, radio and television shows, and if you would like more information contact Alex Leon via email at worldwidevitalpr(at)gmail(dot)com or info(at)scriptedinheaven(dot)com.