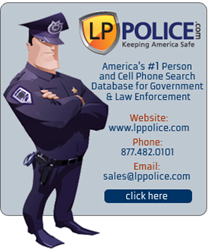 LP Police has served our agency well over the years. It is an asset to our investigators in their day to day work. - Sgt. D.
Boston, Massachusetts (PRWEB) July 10, 2014
LP Police, America's #1 person and cell phone search database for government agencies & law enforcement, is proud to introduce the latest phone data and phone search capabilities which allow law enforcement officials, investigators and police to solve cases faster than ever before.
The Social Media search can access profiles, profile photos, basic demographics, social influence and more from over 100 different social sites.
A People at work search will instantly find current and historical employment information on your subject that can include names, company names, first and last date seen, position held, phone numbers and addresses.
Voter registration searches will access current and historical voter information and typically include occupation, gender, political affiliation, DOB, address, and voter status.
Complimentary VIP training and customer support are always included to guarantee a successful and productive user experience.
CEO Ron Lifton Commented: "The LP Police team is pleased to introduce yet another round of significant search updates and user improvements. Police departments and law enforcement agencies across the country unanimously endorse our ongoing enhancements, best phone data in the industry, and bullet proof customer support."
Praise from Law Enforcement: "LP Police has served our agency well over the years. It is an asset to our investigators in their day to day work." - Sgt. D.
LP Police Advantages:
Unlimited Person, Phone, Property, Criminal, Civil and Business search includes a Cancel Anytime/Money Back Guarantee.
Unlimited and Premium reports include full SSNs, DOBs, MVR, people, assets, licenses, court records (criminal/civil), phones, weapons permits, hunting/fishing licenses, watercraft records, FAA certificates, prior residences, real estate holdings, recorded bankruptcies, liens, judgments, businesses and more in a secure, interactive, searchable database.
Law enforcement and government agencies (federal, state and local) are encouraged to experience the superior data, accuracy, world class free "VIP" technical support, one-on-one training, and customer service from LP Police.
About LP Police:
LP Police, located in Boston, Massachusetts is the nation's leading provider of accurate, complete and cost-efficient investigative information and reports on a majority of the U.S. adult population. Our proprietary online skip tracing database can be used wherever there is an Internet connection, whether in an office or on a mobile smartphone or tablet device. Subscribers have instant access to America's #1 person and cell phone search. Law enforcement benefits from billions of updated online public records to conduct person, phone, address, email, social security, civil records, criminal background, property, assets, licenses and motor vehicle searches.
Call Corinne at 877-482-0101 Ext.238 and sign up for a free trial.
Background Checks:
Background101.com FCRA certified employment background screening is available to qualified applicants. Background101 has been a leading provider of background screening information for more than 15 years.
Please call 866-744-6438 for more information or contact sales(at)background101(dot)com.