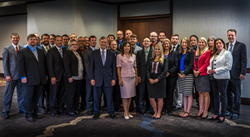 Our team is inspired and spurred on by one another, resulting in creative solutions and cutting-edge action items for our clients.
Raleigh, N.C. (PRWEB) October 09, 2014
Consultwebs.com, Inc., reflected on its growth as a company and focused on how to create a bright future for its law firm clients during the company's fifth annual team conference, recently held at the Hilton in Midtown Raleigh.
"It's amazing to see how much our company has grown over the years," said Dale Tincher, the CEO and President of Consultwebs.com, who founded the company in 1999 and has seen it expand to an operation of more than 50 talented, experienced and dedicated designers, coders, attorneys, writers, Social Media experts and search marketing specialists.
"We're proud of what we have accomplished over the past 15 years," Tincher added. "More importantly, we look forward to what we can achieve with our clients in the years ahead."
Over the course of the three-day gathering, team members participated in a series of training exercises and in-person collaboration sessions.
A highlight of the conference was the use of roundtable-style discussions to plan specific projects and campaigns for Consultwebs.com clients.
"Our team agrees that it is our clients who get the greatest advantage from our team conferences," writes John Damron, Senior Marketing Strategist for Consultwebs.com, in a news article recapping the conference at Consultwebs.com.
"Our team is inspired and spurred on by one another, resulting in creative solutions and cutting-edge action items for our clients," Damron adds.
The conference also featured three guest speakers:

Stephen Fairley of The Rainmaker Institute, who discussed the close relationship between a law firm's marketing efforts and its client intake system;
Micki Love of Hughes & Coleman Injury Lawyers and the M&L Legal Marketing group, who talked about online marketing from a law firm's perspective; and
Raleigh family law attorney Charles R. Ullman, who discussed the meaningful impact that the Consultwebs.com-coordinated Fraternities4Families campaign has had on raising awareness about domestic violence in the surrounding community.
"It was an outstanding conference," Tincher said. "We left with renewed energy, confidence and excitement about the future."
About Consultwebs.com, Inc.
Consultwebs.com, Inc., provides Web marketing products and services to law firms across country. The company's offices are based in North Carolina (The Forum I, 8601 Six Forks Rd., Suite 400, Raleigh, NC, 27615) and Kentucky (114 Main Street, Berea, KY, 40403). For more information, call Marketing Director Tanner Jones at (800) 872-6590 or (859) 353-7720 or simply submit the company's online contact form.