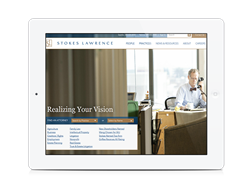 Seattle, WA (PRWEB) January 31, 2014
Online marketing firm, Efelle Creative, launched a new law firm website for Stokes Lawrence this month. Efelle's FusionCMS website content management system powers Stokes Lawrence's online service listings, SEO improvement, news blog, attorney profiles, and more.
Stokes Lawrence is an established law firm with two locations in Seattle and Yakima, WA. Its attorneys focus on litigation, as well as agriculture, business, employment, real estate law and more. Its attorneys are fully engaged counselors, advocates, strategists and deal makers who understand that the practice of law is not simply defending clients' interests, but promoting and advancing their vision in moments of consequence, as well as moments of opportunity.
Stokes Lawrence needed a new law firm website, so they enlisted the help of online marketing firm, Efelle Creative, to provide a content management system and website hosting services. In addition to getting a branded, custom website design by Seattle branding company, Eben Design, Stokes Lawrence also began using Efelle Creatives's website content management system, FusionCMS, and law firm marketing platform, LawFirmFusion.
LawFirmFusion is the first fully-integrated marketing and management platform designed specifically for law firms. The FusionCMS system and LawFirmFusion platform allow the firm's support staff to manage and update all of their website content – from the staff profiles (complete with automated PDF generation), to the service listings, to the online contact requests – in real time, with no coding experience or costly webmasters necessary. The platform also streamlines Stokes Lawrence's internet marketing efforts, including their company news blog, so the staff has more time to allocate towards meeting client needs.
To learn more about Efelle Creative, visit http://www.seattlewebdesign.com
For more information on the FusionCMS platform, go to http://www.getfusioncms.com
To check out Stokes Lawrence's new law firm website, visit http://www.stokeslaw.com
About Efelle Creative
Founded in 2005, Efelle Creative specializes in custom website design for law firms, with an emphasis in organic search engine optimization. Over the past 9 years, Efelle Creative has grown into a full, in-house team of web design and developers, internet marketing professionals, and production and support staff and continues to produce complete online marketing systems and award-winning website designs for clients nationwide from its Seattle, WA office.
With more than 450 successfully completed custom website design and development projects under its belt, Efelle Creative continues to work with a variety of business entities in dozens of industries, from start-ups and local small businesses to large national and international corporations. In addition to its law firm website management platform, Efelle Creative also offers other custom online marketing solutions including web design and website content management for eCommerce businesses, membership organizations, medical and real estate industry professionals, and more.