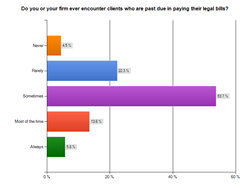 Following up on collections or past due accounts is perhaps the least favorite law firm business activity, but it's incredibly important to a healthy law practice.
Raleigh, NC (PRWEB) August 28, 2014
LexisNexis® Legal & Professional, a leading provider of content and technology solutions, announced today the results of a survey of U.S.-based small law firms. The survey found a majority of small law firms struggle with past due client accounts. About half said as much as 39% of client accounts are typically past due, and while law firms cite client financial hardship as the principle cause, the data also pointed to process defects and that lawyers are uncomfortable engaging in financial discussions. In the words of one respondent, "Attorneys have a problem asking for money after the retainer and throughout the process of working."
"The survey results reflect what we hear anecdotally quite often: Lawyers enjoy the practice of law and dislike the business of law," said James Paterson, senior director of product management at LexisNexis, who leads the direction of software including the LexisNexis PCLaw® practice management solution. "Following up on collections or past due accounts is perhaps the least favorite law firm business activity, but it's incredibly important to a healthy law practice."
Key findings in the survey include:

Most small law firms wrestle with past due accounts. More than 73% of small law firms surveyed say they experience past due client accounts at least some of the time. More than half (53%) say between 10% and 39% of their total client base is typically past due.
Client financial hardship often the source, but so too are business processes. Small law firms overwhelmingly (83%) cite client financial struggles as the principle reason clients allow law firm invoices to elapse past due. However, there were notable indications to suggest client communication, value appraisal and a lack of law firm business process are significant contributing factors.
Write offs and billing discounts pervasive. A majority of law firms surveyed (71%) report providing discounts or writing off legal work even before invoicing clients. Interestingly, those law firms that say they never provide discounts on legal fees also reported substantially lower percentages of clients who allowed legal invoices to become past due.
Invoicing and billing takes eight hours per month, on average. Most small law firms (61%) reported spending about eight hours per month on their billing process, though about a quarter spend up to 16 hours. More than half of law firms (58%) felt they were already spending too much time on the billing process.
Despite tools, small law avoids client analysis. More than 80% of small law firms report having a standardized billing process and using technology to manage invoices – and most use software designed for law firms with integrated invoicing and billing. The data suggests law firms have features for analyzing a client base to identify distinguishing trends between 'good' and 'bad' clients but these go unused.
Sentiment: Lawyers dislike asking clients for money. Many of the open-ended comments expressed the notion that lawyers enjoy practicing law but find financial conversations uncomfortable. For example, one lawyer at a small law firm cited "the discomfort of past due billing discussions," and that seeking payment for legal services rendered "makes me feel greedy…even if I know I've earned the fees charged, it is still an unpleasant task."
"Most of the respondents to this survey were from law firms with just one or two attorneys – in essence small business entrepreneurs," added Paterson. "This survey surfaced a collective discomfort with asking for money. Law firms need to realize there's nothing embarrassing about asking to be paid for what they've earned. The data identifies a clear need to provide small law firms with tips, techniques and tools that facilitate this process."
This study aimed to understand challenges and opportunities facing small law firms during the process of billing and invoicing. The survey was conducted online from July 23, 2014 to August 1, 2014 and distributed to the readership of a 3rd party media publication dedicated to helping lawyers build better practices. Respondents were required to identify as a practicing attorney or a legal professional supporting a U.S-based law firm. Three hundred and nine (N=309) attorneys or legal professionals, from more than 16 practice areas, with broad representation from 47 different states and Washington, D.C., participated in the survey. Respondents were provided an incentive – a chance to be entered in a random drawing for one of 13 prizes – to complete the survey.
Survey results are freely available in a slide presentation embedded on in a blog post on the Business of Law Blog: http://goo.gl/4Q84Wn
About LexisNexis® Legal & Professional
LexisNexis Legal & Professional is a leading global provider of content and technology solutions that enable professionals in legal, corporate, tax, government, academic and non-profit organizations to make informed decisions and achieve better business outcomes. As a digital pioneer, the company was the first to bring legal and business information online with its Lexis® and Nexis® services. Today, LexisNexis Legal & Professional harnesses leading-edge technology and world-class content, to help professionals work in faster, easier and more effective ways. Through close collaboration with its customers, the company ensures organizations can leverage its solutions to reduce risk, improve productivity, increase profitability and grow their business. Part of Reed Elsevier Inc., LexisNexis Legal & Professional serves customers in more than 175 countries with 10,000 employees worldwide.
LexisNexis helps professionals at law firms and legal departments of all sizes manage the business element of their practice or departments with innovative software and mobile solutions for customer relationship management, competitive intelligence gathering and assessment, time and billing management, matter management, client analysis, legal holds and more.
# # #