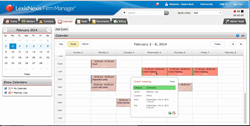 "Every new addition is an effort to make managing the business of law easier for the independent attorney."
Raleigh, NC (PRWEB) May 29, 2014
LexisNexis® Legal & Professional, a leading provider of content and technology solutions, announced today the LexisNexis Firm Manager® team has released a new feature that provides automatic synchronization with the Google Calendar™ calendaring application. The Firm Manager Sync feature is bi-directional, meaning if an update is made in the Google Calendar application – it is also automatically reflected in the Firm Manager calendar and vice versa. The feature also works both for calendars in the Google Apps for Business™ program, the fee-based productivity suite from Google Inc., and the free version of the Google Calendar calendaring application.
"Whether it's a docketing deadline or self-imposed time limit, practicing attorneys live by their calendars," said attorney Christopher T. Anderson, senior product manager for the Firm Manager team. "This synchronizing with the Google Calendar application is another deliberate step along the process of continuing enhancements that LexisNexis is rolling out in the Firm Manager product. Every new addition is an effort to make managing the business of law easier for the independent attorney."
LexisNexis research suggests the Google Calendar application is the most commonly used web-based calendar among independent attorneys and especially solo- and duo law firms. The team is planning to add additional synchronizations with other commonly used calendars later this year. The top benefits of the Firm Manager synchronization feature include:

Enhances an attorney's ability to access a calendar from anywhere and at anytime
Provides access to events of the Firm Manager calendar, even when off line
Offers an easy means to track and meet law firm, matter or case deadlines
Securely stores data in the Firm Manager cloud providing easy access to attorneys and clients
The Firm Manager Sync feature comes on the heels of the LexisNexis Money Finder feature released at the ABA TECHSHOW and a joint-marketing agreement with LawToolBox.com announced at the LegalTech NY tradeshow. The Money Finder feature automatically sorts through tasks, meetings and documents created in the Firm Manager application flagging those that have not been associated with a client bill for review for appropriate billing consideration.
The LawToolBox Court Deadlines solution is an online tool for automatically calculating state and federal court deadlines based on the rules of procedure. Missed deadlines are the main source of malpractice claims against litigators, and the Firm Manager relationship with the LawToolBox rule-based deadline solution helps address this risk. When rules change in a given jurisdiction, the Court Deadlines tool alerts attorneys so they can stay in compliance and avoid a missed deadline. The solution also syncs with a variety of calendars, which will enable synchronization with the Firm Manager calendar, even as work for a deeper integration progresses.
"Every time our customers log into the Firm Manager application, we're hoping they will find something that helps them solve a problem better. We continue to add 'delighters' to the product with every release," added Anderson. "Certainly an automated synchronization with an attorney's calendar in Google's calendaring application is one and the additional benefit from the LawToolBox Court Deadlines solution is another."
The LexisNexis Firm Manager product is a cloud-based practice management tool designed for the independent attorney and small law firm. A freely available video demonstration is available on the product website and LexisNexis is offering 30-day free trial for new users.
Google Calendar is a trademark of Google Inc.
About LexisNexis® Legal & Professional
LexisNexis Legal & Professional is a leading global provider of content and technology solutions that enable professionals in legal, corporate, tax, government, academic and non-profit organizations to make informed decisions and achieve better business outcomes. As a digital pioneer, the company was the first to bring legal and business information online with its Lexis® and Nexis® services. Today, LexisNexis Legal & Professional harnesses leading-edge technology and world-class content, to help professionals work in faster, easier and more effective ways. Through close collaboration with its customers, the company ensures organizations can leverage its solutions to reduce risk, improve productivity, increase profitability and grow their business. Part of Reed Elsevier, LexisNexis Legal & Professional serves customers in more than 175 countries with 10,000 employees worldwide.
LexisNexis helps professionals at law firms and legal departments of all sizes manage the business element of their practice or departments with innovative software and mobile solutions for customer relationship management, competitive intelligence gathering and assessment, time and billing management, matter management, client analysis, legal holds and more.
# # #