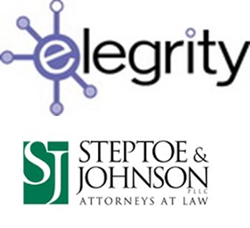 We are excited to bring a new level of innovation to law firm Conflicts of Interest software, along with a welcome and needed option to the marketplace.
Bridgeport, WV and San Francisco, CA (PRWEB) September 30, 2014
Steptoe & Johnson PLLC, a leading energy law firm with 15 offices throughout the United States, sought to optimize its Conflicts of Interest business processes as part of the firm's ongoing operational improvement initiatives.
"We wanted to reduce the effort and time it was taking to research potential conflicts of interest while simultaneously increasing the effectiveness of our research and reviews. We continue to enjoy growth in size and geography. Accordingly, we knew we needed to make key adjustments in this area now to ensure the firm's risk management stayed ahead of that growth. At the same time, we continue to focus on the efficiency and cost-effectiveness of our processes to ensure our clients receive quality service at competitive rates," states Rick Mackessy, Steptoe & Johnson's COO.
Steptoe & Johnson, recognized for its strengths in the energy industry, chose Elegrity as their business and technology partner.
"We went to Elegrity for their innovative thought leadership and technology in law firm business process management and law firm risk management. Elegrity had already successfully assisted us with optimization of our New Business Intake and other downstream processes, so we felt confident in this choice," Mr. Mackessy continued.
Elegrity's risk management consultants evaluated the firm's current Conflicts of Interest operational structures, processes and technologies, noting several areas of key efficiencies that would be immediately made possible with the implementation of Elegrity's Law Business Management System® (LBMS®) Conflicts of Interest module.
"It was clear from our up-front analysis of the firm's current processes and technologies that the innovations contained within our Conflicts of Interest module would have significant positive results for Steptoe & Johnson. First, we identified many steps in their current processes that were completely obviated by our technology while maintaining the integrity of the conflicts analysis. Second, we knew our innovations surrounding conflicts of interest searching, analysis and results review would provide increased visibility and clarity of results, thereby speeding up downstream attorney reviews and clearance processes," indicates Joy E. Spicer, Elegrity's Founder, President & CEO.
The implementation incorporated migration of the firm's conflicts of interest data from their legacy system, conflicts analyst training, and a rollout of a dramatically modified review format for the firm's attorneys.
Mr. Mackessy adds, "We are very pleased with the end results so far. Our conflicts researchers indicate their efforts are much more efficient and less labor intensive. Our attorneys are receiving their conflicts requests back more quickly and new clients and matters are opened in a more timely manner. Additionally, the search results presentation is much improved and has reduced the time attorneys need to spend to achieve the same level of effectiveness of their reviews."
"We are excited to bring a new level of innovation to law firm Conflicts of Interest software, along with a welcome and needed option to the marketplace. Most of all, we are pleased to be able to help Steptoe & Johnson PLLC continue meeting its objectives for operational excellence and growth," concludes Ms. Spicer.
About Steptoe & Johnson PLLC
Steptoe & Johnson PLLC is a U.S. law firm with core strengths in energy, labor & employment, litigation and transactional law. In 2013, Steptoe & Johnson celebrated 100 years of helping clients reach their goals. Visit http://www.steptoe-johnson.com.
For more information, contact Betsy Spellman, Chief Marketing Officer, at (304) 933-8000 or by email: betsy.spellman(at)steptoe-johnson(dot)com
About Elegrity, Inc.
Elegrity is the manufacturer of Law Business Management System® (LBMS®), the only Law Firm Business Process Management and Law Firm Big Data platform built specifically to implement Cradle-to-Grave® management of law firm clients, matters and employees.
For more information, visit http://www.elegrity.com and the Elegrity Law Firm Thought Leadership Blog at http://www.elegrity.com/law-firm-blog/
Legal Notices
Copyright @2014-2015 Elegrity, Inc. All Rights Reserved. 160 Pine Street, San Francisco, CA. All trademarks, trade names, service marks, and logos referenced herein belong to their respective companies.