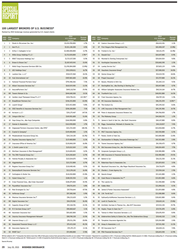 "Our number one goal will always be to provide the best possible customer experience to our clients," stated Bill Lawley Jr., Lawley Managing Partner
Buffalo, NY (PRWEB) August 05, 2015
Lawley has once again been ranked as one of the Top 100 largest insurance brokers in the United States by Business Insurance, the leading commercial insurance publication in the insurance industry. Lawley holds the 57th position based on 2014 brokerage revenues of U.S. clients. Lawley saw 5.0 percent growth over 2013 numbers through organic growth and acquisitions, including DFM Insurance in Darien, Connecticut, expanding operations into a third state across the east coast.
Lawley has been a constant on this list, having been recognized as one of the top one percent of insurance brokers for the last 23 years. Headquartered in Buffalo, NY, Lawley has offices in Amherst, NY; Batavia, NY; Elmsford, NY; Fredonia, NY; Florham Park, NJ; Melville, NY and Rochester, NY and recently expanding into Connecticut last year, acquiring DFM Insurance in Darien, CT. The agency employs over 350 associates across the entire footprint and has been in growth mode, adding staff by 15 percent annually for the last few years.
"Our number one goal will always be to provide the best possible customer experience to our clients. As we celebrate our 60th Anniversary, we continue to offer new products and services and add specialized associates to meet our clients' needs," stated Bill Lawley, Jr., Lawley Managing Partner. "We strive to be the partner of choice for customers, insurance companies, employees, and branch partners seeking long-term relationships built on our core values."
About Lawley
Lawley is a privately-owned, independent regional insurance firm specializing in property, casualty and personal insurance, employee benefits and risk management consulting and ranked among the 100 Largest Insurance Brokers in the U.S., according to Business Insurance magazine.
For 60 years, Lawley's team of over 350 associates have developed customized property, casualty, surety and benefits insurance programs for businesses and municipalities of all sizes and personalized protection for individuals and their families. Lawley is consistently recognized as one of the Best Places to Work by Buffalo Business First.
Headquartered in Buffalo, NY, Lawley has branch offices across New York State in Amherst, Batavia, Elmsford, Fredonia, Melville and Rochester along with Darien, Connecticut and Florham Park, New Jersey. To find out more, visit lawleylnsurance.com.