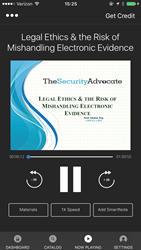 New York, NY (PRWEB) March 14, 2017
Lawline has released an update to its app with several innovative new features to streamline and enhance the mobile CLE experience for its customers.
Listeners now have the option to view the slide presentation that accompanies a course directly from their iPhone or iPad. They can watch the slides advance as they listen to the program, zoom in, or skip through the slides at their own pace. Course materials are also now available from the app, and users can even print or send the materials through email and text message from their device. Finally, SmartNotes—a customer favorite on Lawline.com's desktop site—are now integrated into the app as well. As listeners take notes during a course, they are timestamped to the moment in the video when the notes are taken. Users can then easily go back to that point in the program by clicking on the SmartNote.
These features are the latest updates Lawline has made to the app since its November 2016 launch. The app is the first of its kind to allow users to listen to audio CLE courses both with and without an internet connection and complete courses directly on their mobile devices. Customers have responded enthusiastically, earning over 15,000 CLE certificates on the app.
"We promise our customers stress-free CLE," said David Schnurman, CEO and founder of Lawline. "One way we deliver on this promise is through our superior technology. These new features, combined with our easy-to-navigate catalog and quality content, make it even easier for attorneys to earn the credits they need with the courses they want."
The Lawline App is available now on devices running iOS 9 and later. The app is free and available to all Lawline members.
Download the Lawline app here.
About Lawline
Lawline is the leading provider of online continuing legal education offering legal intelligence to attorneys in across the country. With over 2,000,000 CLE courses completed to date, Lawline offers timely legal content that supports attorneys throughout their practice. The company is headquartered in downtown Manhattan and has received multiple awards recognizing its superior product and service. Its success has also been featured in The Wall Street Journal, Inc., Entrepreneur, & Forbes.com.
For any questions or comments about Lawline, please contact us at 877-518-0660 or support(at)lawline(dot)com.