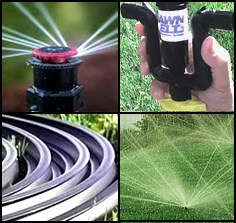 Lawnbelt offers everything you'll need so you can install your entire in-ground system in one weekend.
McCall, ID (PRWEB) October 31, 2013
Lawnbeltusa.com, an online sprinkler company has recently revamped their product line. Four main kits are available to choose from.
Lawnbelt Kits For Lawns Now Include:
1) Water Saver: Waters large or small lawns with less water.
2) Big Lawn: Waters large lawn with stream of water.
3) Small Lawn: waters small lawn with full sprayer.
4) Lawn Strip: waters narrow boulevards or sideyards.
A Lawnbelt Kit is a sprinkler zone that contains conduit and three sprinkler heads. The Lawnbelt conduit installs just under the turf level using a flat shovel. Kits install without any glues and assembles using a 5/16" wrench.
Larry Burke, owner of Lawnbelt explains "There are five simple steps to buying and installing your sprinkler system which include measuring, testing PSI, layout and finally putting the system in the ground. Lawnbelt offers everything you'll need so you can install your entire sprinkler system in one weekend."
The new kits offered at LawnbeltUSA allow the gardener to water both small and large lawns. A water saver sprinkler head is also available and offers the same coverage found in high performance rotor driven heads, the sprinkler company reports.
For larger lawn areas, each zone or kit is watered separately. This can be accomplished using an automatic timer. Individual zones connect to the timer to allow each kit to watered at different times in order to maintain adequate pressure.
Lawn Belt has been providing homeowners with an alternative to conventional PVC Sprinkler Systems since 1999. LawnbeltUSA is located in McCall, Idaho USA and is open for tech support and sales questions between 8-5 M-F MST.
For more information and video demonstrations, please visit their website at http://www.lawnbeltusa.com or call them at (877) 529-6235.
They can also be reached 24/7 at orders(at)lawnbeltusa(dot)com